The Polish foreign minister has been filmed warning a Ukrainian protest leader that if the opposition chose not to support an EU deal to quell the violence in Kiev, they would all be killed.
Ukraine opposition leaders signed an EU-mediated peace deal with President Viktor Yanukovich on Friday, aiming to end a violent standoff that has left dozens dead and opening the way for a early presidential election this year.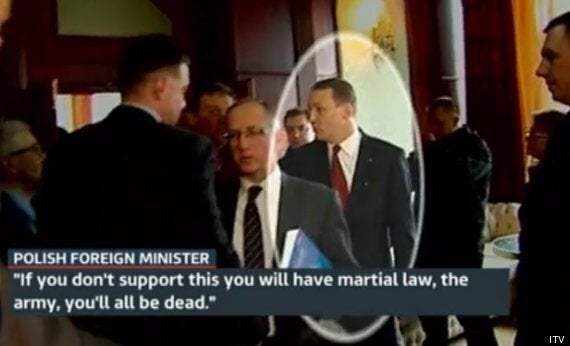 Foreign ministers of the Weimar Triangle, including Polish Foreign Minister Radoslaw Sikorski, head of German diplomacy Frank-Walter Steinmeier, head of the French Foreign Minister Laurent Fabius and representatives of the Ukrainian opposition: Vitali Klitschko, Oleg Tiahnybok and Arseniy Yatsenyuk, as well as the Russian Ombudsman Man, Vladimir Lukin, met today.
Sikorski was caught on camera saying: "If you don't support this [deal] you'll have martial law, you'll have the army. You will all be dead."
Sikorski later described the agreement as a "good compromise for Ukraine". In a post on Twitter, he said it "gives peace a chance. Opens the way for reform and to Europe".