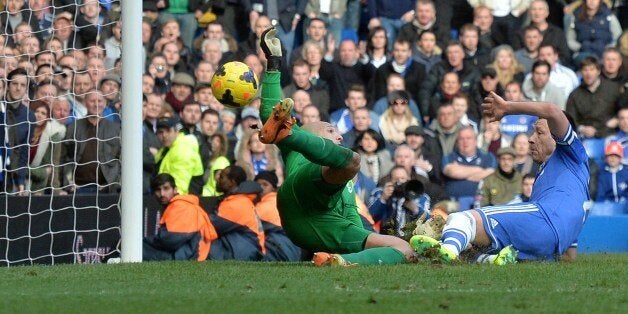 Events have backfired against José Mourinho over the past week. His pithy putdown of Arsène Wenger was widely condemned, Chelsea surrendered at Manchester City and he was even narky with some of his media lapdogs. But on Saturday they registered a result that might be considered as their most significant of the season, come what May.
Tim Howard's 92nd minute own goal (for it was his goal, rather than the bragging John Terry) brought a victorious end to a chastening week for his manager. Mourinho, as gloomfully restrained as his last days in Madrid, suddenly burst into life. His triumphant clenched fist could be the money moment of the campaign should he end the club's four-year wait for a fifth championship.
It was so close to a second Stamford Bridge stalemate inside a month. Mourinho would have been chiefly culpable, too, after he deprived his team of steel in favour of silk and watched on as Everton bullied them. Victors at Old Trafford and superior at the Emirates Stadium, there is little danger of the inferiority complex they wore like a badge of honour under David Moyes returning. Bereft of Romelu Lukaku and his injured interim Lacina Traoré, they outperformed Chelsea for sizeable sections of this encounter.
But just when they looked like they were about to belatedly regain their confidence from their 4-0 Anfield annihilation last month, they were denied a deserved point in the messiest of circumstances. Was it Lampard's? Was it Terry's? It might have been Howard's, as the American goalkeeper's error cost his side dearly.
Everton's winless record - in normal time, at least - stretches back to November 1994 and Paul Rideout's winner when Glenn Hoddle was in the home dugout. Their afternoon began auspiciously when Traoré felt his hamstring in the warm-up. Steven Naismith, who scored the decider when Everton visited Goodison Park in September, was promoted having scored four goals in his last five appearances.
That two of those goals came against Stevenage would be a disservice to a player who is belatedly resembling a Premier League-standard player. He was one of the brightest boys in blue in the defeat at Tottenham and there was an element of déjà vu when he neatly laid off a half-volley for Leon Osman to sting Petr Čech's fingers in the 12th minute.
Osman, who has scored just twice this season, was an easy scapegoat under Moyes and plenty of Evertonians hoped Martínez's arrival would have eventually marginalised him. Instead he has established himself back in the starting XI at Ross Barkley's expense, despite the youngster's return from injury. It was ironic Martínez benched Barkley when it was after his flamboyant performance for Chelsea's visit five months ago that he remarked, "The more you watch him the more you fall in love."
Everton's inferiority complex which disappeared following that win at Manchester United and draw at Arsenal in December may not have been evidenced at Anfield but it was at Stamford Bridge. Gary Cahill blocked a mishit Kevin Mirallas strike on 16 minutes as Chelsea seemed taken aback by the gall of this one-time plucky side.
Mourinho was notably restrained on the touchline. He barely spoke in the opening 30 minutes, despite his side's struggles, apart from when he sauntered a few yards to his right to express an opinion to Roberto Martínez. It could have been a compliment.
"I feel sorry for them because maybe a point is fair, but we were the team which was really trying to win," Mourinho opined.
Still smarting from the ease in which Manchester City ejected them from the FA Cup last week, he dropped David Luíz from the 18-man squad completely. They missed him. James McCarthy and Gareth Barry's aggression was a key factor behind Everton's fearlessness and Lampard, alongside Nemanja Matić in the Chelsea midfield, was ineffectual. The prickly Samuel Eto'o was Everton's biggest nuisance with a low shot Howard stopped, while Eden Hazard was swamped by the swashbuckling Seamus Coleman and Kevin Mirallas.
Mirallas wasted the best chance of the first 45 with a wretched miscue from 20 yards when the ball could hardly have fallen any kinder. With two of the best centre-back partnerships in the League starting, the goalless scoreline at the pause was as unsurprising as Mourinho's half-time change.
Often proactive with his substitutions, he introduced Ramires at the expense of Oscar in an attempt to address Chelsea's lethargy as they reverted to the flexible 4-3-3 which worked superbly at City in the League. The bristling Brazilian brought an edge to the contest almost immediately when he kicked the floored Steven Pienaar, a la Hazard on the Swansea ball boy. Leon Osman retaliated, Chelsea were somehow awarded a free-kick and it galvanised them.
Lampard was thwarted brilliantly by Sylvain Distin five minutes after the restart after Howard parried his effort and Phil Jagielka was fortunate not to be penalised for a handball inside his own area.
The parallels with the Spurs defeat grew for Everton as Osman, who had four shots in the opening seven minutes at White Hart Lane, looked to have been denied again, only Čech's staggered save was due to a deflection off Mirallas.
Both sides contributed to a madcap goalmouth scramble on the hour when Howard parried a Hazard shot, which was headed wide by Eto'o into Branislav Ivanović's path. By then, Howard had returned to his feet in time to block the Serb's powerful effort.
Mourinho was still unsatisfied, so threw Torres on and Barkley emerged for the luckless Osman seconds later. Everton sensed a repeat of their late exorcism at United, while Mourinho was vexed by a second goalless home draw in the space of a month. Mirallas, the player most berated by Martínez, did little to quell his manager's mood when he miscontrolled an inviting through ball.
For a goalless game, the managers could not be faulted for their intent. André Schürrle, Gerard Deulofeu and Aiden McGeady entered the fray with 15 minutes left. "I thought I cannot go by instinct, I went the other way and tried to be pragmatic," Mourinho said after the game.
Howard's horrendous kicking led to a sight at goal for Torres, only he blasted the ball against Hazard in a moment which succinctly summarised his three years in west London. Time was running out.
Then Jagielka, usually so calm, panicked and felled Ramires in stoppage-time. "Chelsea used every trick in the book," Martínez moaned. One swing of Lampard's boot later and the home crowd left cheering, rather than jeering.
Related