A woman has been caught on camera climbing on top of a BMW during a dramatic road rage incident.
Riz Husain captured the altercation between a male motorist and a passenger in an Audi A3 near the Kingsbury roundabout in north-west London.
The shocking footage shows the man getting out of his car to confront the woman before driving off... with her perched on top of his car.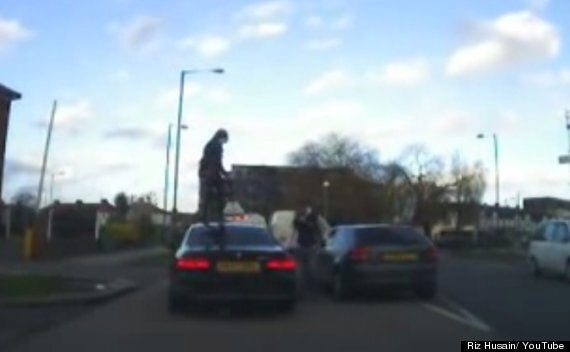 "So I'm driving up to Kingsbury roundabout when I see a girl get out of the passenger side of the Audi A3 and climb on the roof of the BMW," explained Mr Husain on YouTube.
"She's not coming down until the guy stops. Her friend in the Audipulls across the BMW."
He added: "The guy in the BMW incensed the first girl has climbed onto his roof tries to get her off by driving away.
"She eventually comes down to the bonnet, before eventually getting off and joining her friend in the Audi."
He said "both cars nearly caused an accident" as they sped away.