A British tourist has been arrested in Australia charged with stealing a "rarer than hen's teeth" pink diamond.
The Cairns Post said Matthew Osborne appeared at Cairns Magistrates' Court accused of snatching the Argyle stone, valued at 250,000 Australian dollars, from a shop in the Northern city last Saturday.
Australian police hunting for the missing diamond arrested Osborne at Melbourne airport as he prepare to board a flight to New Zealand.
He was flown to Cairns with a police escort ahead of his court appearance and marched through the airport in handcuffs.
Detectives carried out a X-ray on Osborne after they suspected him of swallowing the stone but the results were inconclusive.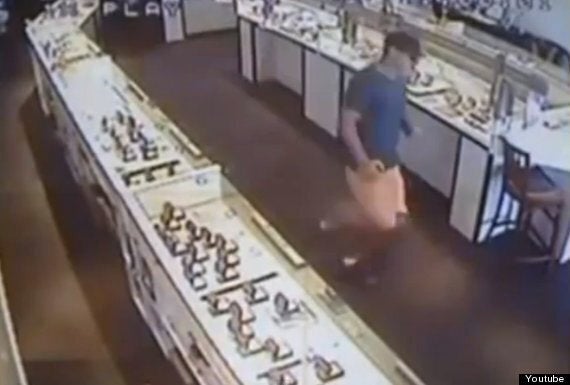 CCTV showed a customer fleeing the shop
CCTV of the incident shows a customer fleeing the shop with the diamond moments after it was shown to them a by shop assistant.
Police said the thief escaped on a bicycle.
Despite the 250,000 Australian dollar (£135,000) price tag, the diamond is only 0.31 carat with a diameter of 4.3 millimeters, instead earning its value because of its colour.
Queensland Police earlier said in a statement that the stolen diamond is still outstanding and investigations are
A Foreign Office spokesman said: "We are aware of reports that a British national was arrested at Melbourne airport on Thursday.
"We have been in contact with the local authorities and offered to provide consular assistance."
The diamond's owner, Keith Bird, told the Brisbane Times that he has run the jewellery shop for 36 years and estimates that his chances of seeing the "rare as hen's teeth" diamond again at "better than 50%".
"We had a lady in tears a few days ago because she said she'd always wanted to buy the stone," he told the newspaper.
"It's quite notorious now."
He also told reporters that the piece had been on display in the store for nine years.