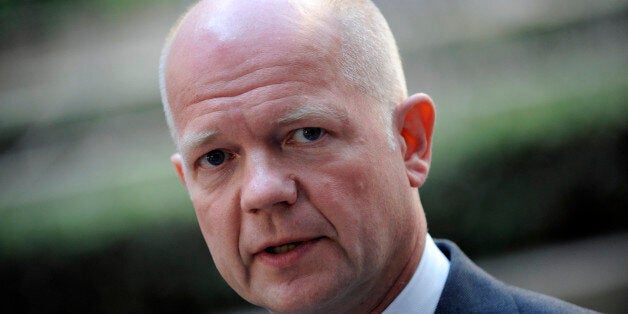 William Hague has warned Russia not to meddle in the Ukrainian crisis.
The Foreign Secretary called for the urgent formation of a national unity government to help manage divisions in the country.
He said talks were continuing with Moscow and stressed that it would not be in the interests of the Russian people to intervene, amid concerns that president Vladimir Putin could send in troops.
Hague said: "There is a moment of opportunity now for the Ukraine after those terrible scenes and the horrific bloodshed of a few days ago.
"There is an opportunity but there are still many dangers."
Yanukovych is believed to be in the Ukraine's Russian-leaning east and Mr Hague acknowledged the complex picture in the vast country.
"The political situation even among the opposition is very complex, it's clearly been a very divided country. The position and whereabouts of Mr Yanukovych are not clear as we speak," he told BBC1's Andrew Marr Show.
"There are many dangers but it's urgent that they get on to form that inclusive government, a government of national unity in effect.
"It's urgent that they confirm their constitutional arrangements for elections coming up which they have declared for May.
"It's really urgent that they and we get on with improving their economic situation."
Asked about the role of Russia, Mr Hague said Prime Minister David Cameron held talks with Mr Putin last week and he would speak to his counterpart Sergey Lavrov tomorrow.
He said: "It's very important for us to try to persuade Russia that this need not be a zero sum game.
"It's in the interests of the people of the Ukraine to be able to trade more freely with the European Union, it's in the interest of the people of Russia for that to happen as well.
"We are in constant discussion with Russia and it's very important we keep that up, particularly if there's an economic package it will be important that Russia doesn't do anything to undermine that economic package and is working in co-operation and support of it.
"So, a lot of work to do with Russia over the coming days."
Asked if Moscow could send in the tanks, Mr Hague said: "We don't know what Russia's next reaction will be.
"We do know that Russia as well as the United States said a few days ago that they would get behind the deal that had been made, that deal has now been overtaken by events."
Pressed on whether he believed there could be a Russian intervention he added: "I am not suggesting that. I'm really suggesting that it would not be in the interests of Russia to do any such thing, that we have to keep up the communication with Russia, as we are doing, as you can gather, so that the people of Ukraine can choose their own way forward.
"I'm not suggesting that anybody is going to stop them but there are many dangers and uncertainties."
Yanukovych has described the events as a coup, insisted he was the ''legitimately elected president'' and said he would not step down.
The release from prison of Ukraine's former prime minister Yulia Tymoshenko was welcomed by European Union foreign policy chief Baroness Ashton.
Addressing the crowd in Kiev's Independence Square, Tymoshenko paid tribute to the protesters who had lost their lives in the unrest, saying ''heroes don't die, they are always with us and they always will be our inspiration''.
Speaking from a wheelchair amid occasionally chaotic scenes in the square, which has become the focal point for the opposition movement, Ms Tymoshenko said the protests should continue.
''Until you finish this job and until we travel all the way, nobody has the right to leave,'' she said.
''Because nobody could do it - not other countries, nobody - could do what you have done. We've eliminated this cancer, this tumour.''
Related