Samsung has announced the Gear Fit, it's new curved glass fitness and notifications watch.
While the Galaxy S5 is obviously the most mature Samsung device on show at MWC, and the Gear 2 is the most welcome (and badly needed) refresh, the Gear Fit is arguably the most interesting and surprising of the bunch.
In person it is immediately arresting and entrancing. The curved screen is bold, impressive and futuristic, and the resolution is decent and colours vibrant. The touchscreen is responsive and it's easy to move between the different functions and apps - though not all of the ones we saw are brilliantly optimised for the new horizontal-style screen just yet.
Thankfully, Samsung has brought more colour to its new range of wearables compared to the Galaxy Gear as well as great new tech, and it's fantastic to see lots of options for backgrounds and clock faces on the Fit, including a very cool words-based clock face which writes the time instead of displaying numbers.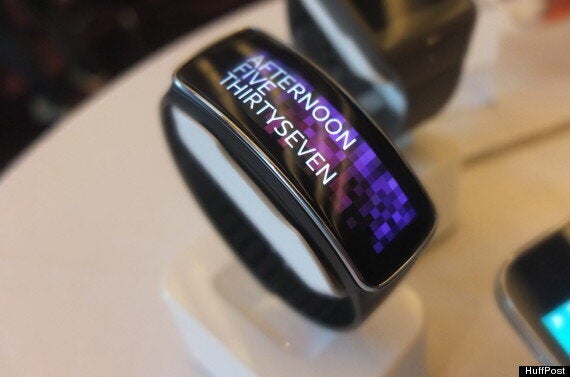 Similarly, the band in which the Gear Fit unit is housed - while naturally 'cheap' and cheerful, is solid and well made, with a secure fit, and is easily swapped out with other colours and styles.
The main downside with the form factor is the horizontal orientation. It means that in some cases you have to twist your head to read it properly. It would have been nice to include the option for vertical controls - or a motion-based means to switch between them - but that's not here this time around.
In terms of functionality, the Gear Fit is limited, but solid and well thought-through. The heart rate monitor on the device's rear works well - though it's not constantly working, you have to load up the monitor app and wait for your results to display on the screen. Similarly the pedometer is simple and straightforward, as are the timer, clock and alarm apps. We didn't get to see the notifications in action - and how those stack up, clear and alert the wearer will obviously be key. Similarly, whether or not it works nicely with Gmail, Facebook and Twitter will be interesting and important.
Also important - obviously - will be price. But people will probably want one anyway, because the quality and invention on show here is really quite impressive. To be frank, it's the coolest Samsung product in a long time. If it's price low enough, it could be a huge hit. Yes, we can't wait to see the next generation, and yes this one is a bit thicker and bulkier in person than the pictures really let you see. But by any estimation it's a big step forward for wearables, and points to an exciting future.