The German newspaper Süddeutsche Zeitung has been accused of anti-Semitism after it published a cartoon depicting Mark Zuckerberg as a hook-nosed octopus controlling the world.
The caricature shows Zuckerberg, who was raised Jewish but now describes himself as an atheist, as an octopus, whose tentacles are taking hold of computers and smart phones.
His 'Pirate' hat, on curly hair and above a thick-lipped smile, has the Facebook logo, while in one tentacle he holds the logo of WhatsApp – which his company purchased last week for £12 billion.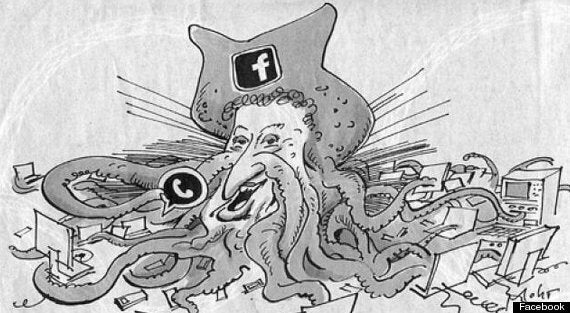 Efraim Zuroff, of the Simon Wiesenthal Centre in Jerusalem, called the cartoon "shocking" and "almost a replica of a Nazi caricature from 1938."
"Zuckerberg doesn't have a big nose, but in the caricature his nose is emphasised. The hook nose is a typical caricature of a Jew.
"It is clear that whoever drew the caricature is emphasising the fact that Zuckerberg is Jewish. It's classic. The Jews are taking control of the world. It reinforces all the stereotypes about Jews."
Rabbi Abraham Cooper, Associate Dean of the Simon Wiesenthal Centre told Algemeiner the "nefarious Jew/octopus was a caricature deployed by Nazis."
"Mark Zuckerberg is fair game for the media, including German media, but no German should deploy such caricatures," he said.
"Anti-Semitism and racism are ideologies which are totally foreign to me," he wrote. "It is the last thing I would do, to defame people because of their nationality, religious view or origin."