Diplomats have admitted they have no idea of the whereabouts of Ukraine's ousted President Viktor Yanukovych, with grainy footage emerging via a Ukrainian TV station of the politician and his advisers deserting the presidential compound by helicopter.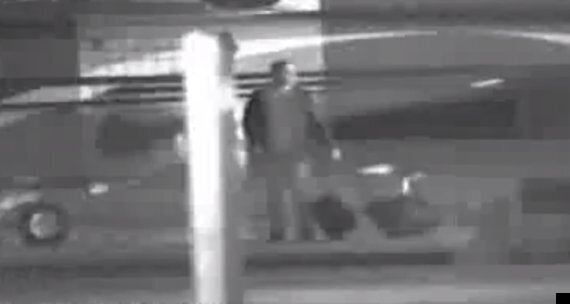 One of the images from the unverified CCTV
There had been speculation the president would attempt to leave by boat, after a yacht pulled up to a club owned by his son in the port of Balaclava, where the president had been spotted earlier in the day.
But the president and two aides are said to have left the yacht club by car, after the boat had departed.
Jen Psaki, a US state department spokeswoman, said the US administration would not continue to view him as the country's president, adding: "Yanukovych left Kiev. He took his furniture, packed his bags, and we don't have more information on his whereabouts.
"So there are officials who have stepped in and are acting in response to that leadership gap at the moment."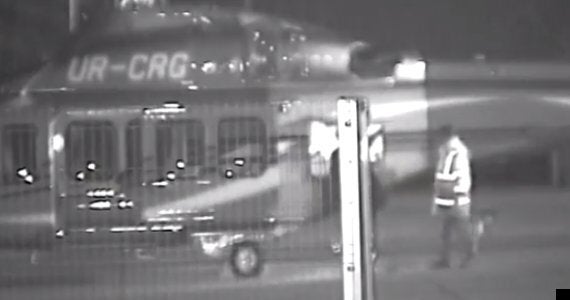 A local newspaper claimed that this helicopter had been leased by the Ukrainian government A 'Wanted' poster showing a portrait of ousted President Viktor Yanukovych is stuck on a car window in central Kiev
Foreign Secretary William Hague will join US counterpart John Kerry for talks on emergency support for Ukraine today as Moscow questioned the legitimacy of the country's interim leaders.
Hague has warned that Ukraine faces imminent economic collapse without support from the international community and Washington has said it stands ready to plough in cash with other partners to stabilise the nation.
British forensic experts are in the country helping to ascertain who is responsible for shooting dozens of protesters last week, it has been reported.
More than 80 people, primarily demonstrators, were killed in clashes with security forces in the bloodiest violence in Ukraine's post-Soviet history.
The investigators, who did not want to be named, told BBC's Newsnight that they had already discovered positions from which government snipers had fired on protesters, and had found evidence which could be used in prosecutions.
One told the BBC: "It was just a bloodbath really, wasn't it? We're looking at the sniper positions and who would be responsible for the deaths of the people in that area."
Russian Prime Minister Dmitry Medvedev said authorities in the country had taken power as a result of "armed mutiny".
"If you consider Kalashnikov-toting people in black masks who are roaming Kiev to be the government, then it will be hard for us to work with that government," he said.