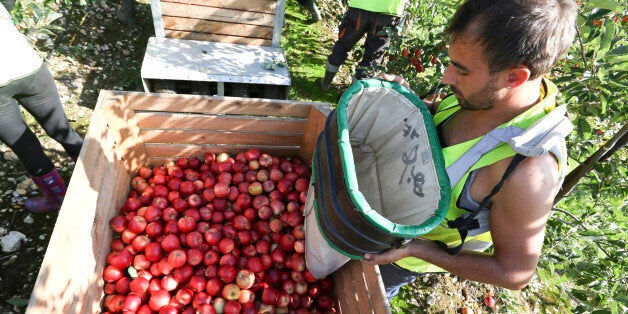 Unemployed Britons should have to pick fruit on farms or be stripped of their benefits, farming minister George Eustice has suggested.
The Tory minister told the National Farmers' Union conference in Birmingham that British jobseekers should replace migrant workers on a scheme to work as fruit pickers in order to show off their work ethic.
"I know that some people would say you won't get them to do this work, they don't want to do it," Eustice said.
"As a government we shouldn't really tolerate that attitude that says we are going to pay people to stay on benefits because they don't want to do certain types of farming work."
The farming minister insisted that unemployed Britons should be brought on to do the work, which migrants had previously done in the Seasonal Agricultural Workers scheme, which provided 22,000 with temporary permits to work in Britain but was scrapped in September.
Eustice said: "We don't think it is acceptable that people who could work do not because they think there is something unglamorous about farm work.
"We are doing a number of things, including getting people who live locally to take some of these jobs, to make sure it's factored into the work that DWP is doing.
"Sometimes the barrier is that people feel it is not worth coming off benefits for a month or six weeks because they then have the difficulty of getting back on those benefits. That is something we are trying to address."
Eustice, whose family used to run a strawberry farm in Cornwall, added: "Frankly, we need to try to make sure we make it easier for people who live locally who are on benefits but could work to take these jobs in agriculture."
Agricultural work pays marginally more than unskilled labour, at up to £8 an hour compared to the minimum wage of £6.31. However, some workers have been put off by the hard outdoor work.
"The farms are not normally in high unemployment areas, British workers are reluctant to live on the farm and growers state that British workers either cannot or will not work at the intensity required to earn the agricultural minimum wage."
However, NFU president Peter Kendall accused the government of pursuing a "social engineering experiment", adding: "Just because the Government says people should do farm work doesn't mean they are going to do it."
Popular in the Community