As the start of New Zealand lamb season begins, we find ourselves wondering about the tastiest ways to re-introduce it into our food repertoire.
Here are three complicated-sounding but surprisingly easy recipes to make, straight from the source.
Lamb Stir-Fry: Quick & Easy To Cook With The Kids (serves 4)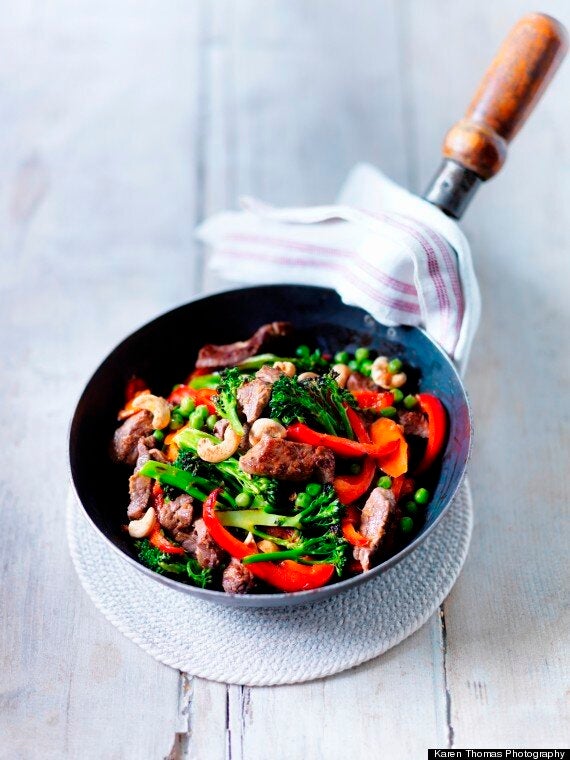 2 - 3 lamb boneless leg steaks, or 2 - 3 boneless lamb neck fillets, cut into ½ inch thick slices
2 teaspoons grated ginger
2 pinches dried chilli flakes (or ½ red chilli, chopped)
2 tablespoons vegetable oil
2 carrots, peeled and thinly sliced
1 red pepper, halved lengthways, core and seeds removed, cut into strips
4 tender-stem broccoli, cut into ½ inch lengths
100g green peas, defrosted if frozen
50g toasted cashew nuts, roughly chopped
Mix the lamb with the garlic, ginger and chilli and 1 tablespoon of the oil and leave covered for 10 - 20 minutes at room temperature
Mix the soy sauce with ¼ tea-cup of water
Prepare the vegetables
Place the wok over high heat and add all of the lamb at once, spreading it out
Once browned, turn over and cook the other side for just 15 seconds
Remove the lamb and place in a heatproof bowl
Put the wok back on high heat. If there are pieces stuck to it carefully wipe out with a paper towel but be careful as it'll be hot
Add the oil to the hot wok and place in, in this order, the carrots, pepper and broccoli
After 20 seconds, begin stirring the vegetables (keeping the wok on the heat) and cook until they soften and colour a little
Return the lamb to the wok with any juices
Add the soy sauce water, spring onions, peas and cashews
Cook until the liquid has almost evaporated, tossing as it cooks
Taste for seasoning and serve
Lamb Burgers - Good For The BBQ (serves 4)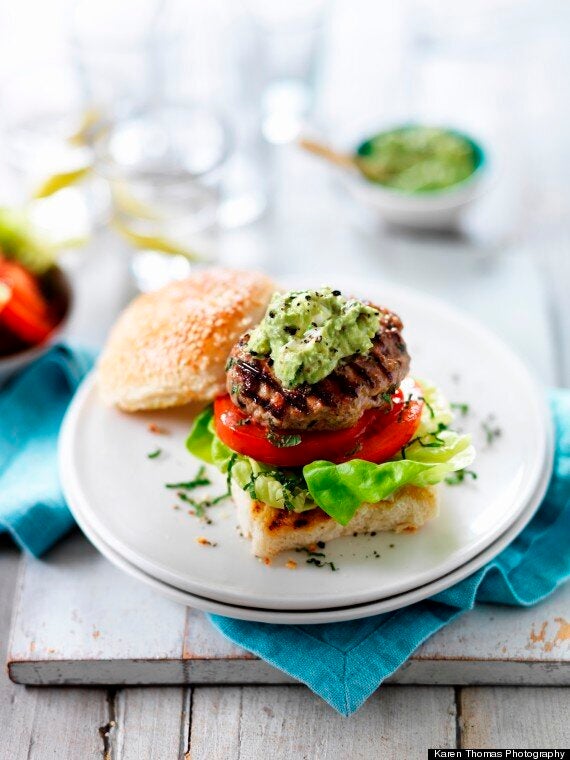 2 tablespoons tomato sauce
2 teaspoons Worcestershire or any other brown sauce
1 spring onion, thinly sliced
¼ teaspoon finely grated lime zest
2 heaped tablespoons mayonnaise
1 teaspoon mustard (I prefer English mustard for its fieriness)
50g feta cheese, crumbled
2 beefsteak tomatoes, thinly sliced
1 teaspoon extra virgin olive oil
4 burger buns, split open
1 butter lettuce, leaves separated
Use your hands (or a food mixer – not a food processor) and combine the lamb mince, tomato sauce, brown sauce, spring onions and ½ the mint leaves
Divide into 4 portions then roll out and flatten to around 1cm thick patties
Place on a tray in the fridge to firm up for anywhere between 2 hours and overnight
Remove the flesh from the avocado and mash with the lime zest and juice, then mix in the mayonnaise, mustard and lastly the feta
Mix the remaining mint leaves with the tomatoes and olive oil and season with freshly ground coarse black pepper and sea salt
Cook the patties over medium heat on the bbq until done to your liking then remove and rest in a warm place for 5 minutes while you assemble the burgers
Toast the buns on the cut side and sit the lettuce on
Drain excess juice from the tomatoes and place these on
Sit the cooked patties on top then spoon on the avocado mixture
Gently pres the tops on
Lamb, Olive and Orange Stew, Roast Pumpkin Humus, Minted Broccoli Couscous, Nutty Dukkah (serves 6)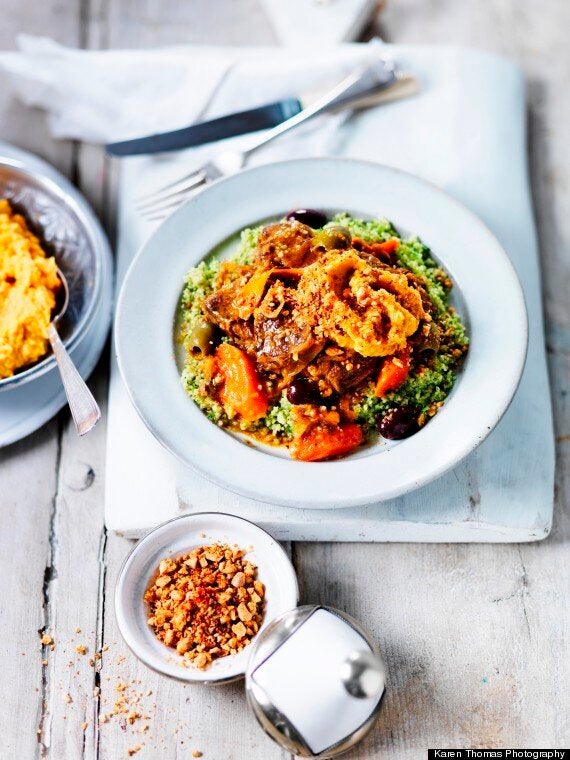 Lamb, olive and orange stew
1kg boneless lamb leg, diced
1 teaspoon fresh thyme leaves
1 teaspoon fresh rosemary leaves, chopped
2 cloves garlic, peeled and chopped
3 onions, peeled and sliced
1 teaspoon coriander seeds
2 carrots, peeled and sliced
1 sweet potato, peeled and diced
100g unpitted olives - a mixture of green and black
Cut the lamb into 2cm thick slices and mix with the thyme, rosemary and garlic and leave to marinate for an hour
Heat up a heavy based pot and add a tablespoon olive oil
Caramelise the onions, cumin, coriander seeds and cinnamon over medium heat
Add 2 strips of orange peel (no pith) and its juice, then cook until the liquid has evaporated
Remove the onion mixture from the pot and put back on the heat
Add another tablespoon olive oil and add the lamb then cook until browned all over
Return the onion mixture to the pot, along with the carrots, soy sauce, sweet potato (which breaks up as it cooks and thickens the sauce), olives and enough water to cover by 1cm
Bring to a boil, then reduce the heat to a gentle simmer and cook with a lid on for 90 minutes – either in the oven at 170*C or on a very low heat on the hob
After an hour, take the lid off the pot and cook until the sauce has thickened, around another 30 – 40 minutes (if it isn't as thick as you'd like you can mix a tablespoon of flour into ¼ cup cold water to a paste and then stir it into the stew making sure you don't create any lumps)
Taste for seasoning and it's ready to serve
200g pumpkin or butternut squash
1 x 400g can cooked chickpeas, drained and rinsed
2 - 3 cloves peeled garlic
2 tablespoons tahini paste
olive oil – approximately 150ml
Place the pumpkin in a roasting dish and drizzle with 2 teaspoons olive oil then bake until you can easily insert a knife through it – around 45-60 minutes
Leave until cool enough to handle, then scoop out the seeds and discard
Scoop the flesh out and place in a food processor with the chickpeas, garlic, tahini, lemon zest, lemon juice and some flaky salt
Pulse blitz
Start adding the olive oil and add enough to give you a 'thick dip' consistency
Taste for seasoning
Minted broccoli cous cous
200g broccoli florets, cut into chunks
a handful of fresh mint leaves
a handful flat parsley leaves
2 tablespoons extra-virgin olive oil
Mix the couscous and water with ½ teaspoon of salt, and leave it to absorb for 10 minutes
Boil or steam the broccoli for 1 minute then drain and immediately put into a large bowl of iced water
Drain well and place in a food processor with the mint leaves, parsley and olive oil and blitz in several short bursts, scraping down the side of the bowl each time, to produce coarse crumbs
Mix into the couscous with a generous amount of freshly ground black pepper, adding salt to taste
1 tablespoon coriander seeds
2 tablespoons sesame seeds, toasted (or toast in the pan with the other seeds)
½ teaspoon nigella seeds (or use extra cumin, or caraway seeds)
½ teaspoon sweet smoked paprika
1 teaspoon flaky sea salt
Place a heavy based pan over medium – low heat
Add the coriander, fennel and cumin seeds and cook until they become very aromatic.
Be careful not to burn them as they will catch quite quickly – and if you do burn them you're best to start again!
Once they're done tip into a heatproof dish and leave to cool
Tip into a mortar along with the nigella seeds and sesame seeds and coarsely pound with a pestle
Add the nuts and pound, but keep them a little chunky
Finally add the smoked paprika and salt and pound a little more
Store in an airtight jar
Visit New Zealand Lamb's website for more recipes.