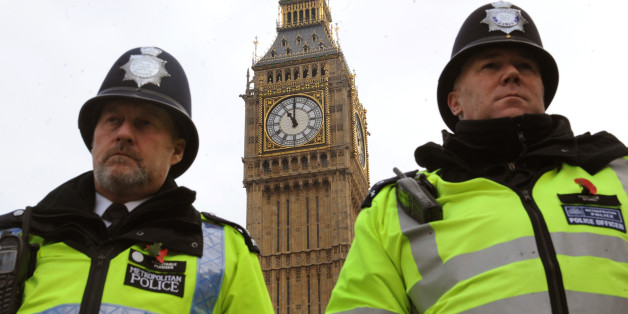 Anthony Devlin/PA Archive
The extent of crime police have had to tackle in Parliament can be revealed thanks to a Freedom of Information request by the Huffington Post UK.
The Metropolitan Police revealed that their SO17 division, which patrols the Parliamentary estate, have made more than 40 arrests since May 2010 for offences including the possession of class B, offensive weapons like firearms or breaching police bail.
The police also admitted that they had to seize drugs more than just once, as they initially told HuffPostUK.
Officers had to seize drugs off people on the Parliamentary estate three times during 2013, twice for cannabis and a third time for a "Class B" drug - which could include amphetamines, barbiturates and methedrone.
The police's admission comes amid the revelation about the interest in illegal drug sites on Parliament's computer network, and the fact that cocaine use was found inside the toilets at the Houses of Parliament in June.
See also:
Over 20 arrests were made in the second half of 2010, with 15 of them carried out for criminal trespass in the Houses of Parliament. Most of the other arrests in that year were made for immigration-related offences.
In 2011, 7 people were arrested for offences ranging from burglary, assault, the possession of a firearm, criminal damage and for possessing an "imitation firearm and bladed instrument".
The number of arrests on the next year was potentially greater, with at least five made in 2012. The arrest made by police in February for assault would have been after then Labour MP Eric Joyce head-butted a Tory during a Commons bar fight.
Finally in 2013, 11 arrests were made including two for the possession of drugs, two more for breaching bail, six for criminal trespass and one for the possession of an "offensive weapon".
The arrests by the Metropolitan Police's SO17 division in full:

2010: 24 arrests made

May - two arrests under the Serious Organised Crime and Police Act 2005 (criminal trespass)
June - seven arrests under the Serious Organised Crime and Police Act 2005 (criminal trespass)
July - two arrests under the Serious Organised Crime and Police Act 2005 (criminal trespass), one for immigration offences and one for an outstanding warrant
August - five arrests for immigration offences, two arrests under the Serious Organised Crime and Police Act 2005 (criminal trespass)
September - two arrests for immigration offences and two under the Serious Organised Crime and Police Act 2005 (criminal trespass)

2011: 7 arrests made

January - one arrest for immigration offences
May - one arrest for burglary and one under the Serious Organised Crime and Police Act 2005 (criminal trespass)
July - one arrest for a Assault/Public Order offence
August - one arrest for Section 5 Firearms Act 1968
September - one arrest for Criminal damage
November - one arrest under the Serious Organised Crime and Police Act 2005 (criminal trespass), one arrest for possession imitation firearm and bladed instrument

2012: At least five arrests made

February - one arrest for assault
July - one arrest for theft
August - one arrest under the Serious Organised Crime and Police Act 2005 (criminal trespass)
Sept - arrests for criminal damage
Dec - one arrest under the Serious Organised Crime and Police Act 2005 (criminal trespass)

2013: 11 arrests made

April - one arrest for possession of an offensive weapon
May - one arrest under the Serious Organised Crime and Police Act 2005 (criminal trespass)
June - five arrests under the Serious Organised Crime and Police Act 2005 (criminal trespass), one arrest for possession of cannabis
Sept - one arrest for breach of bail
Nov - one arrest for Possession Drugs (class B)
Dec - one arrest for breach of bail