A four-month-old boy has had "multiple fully-formed teeth" removed from his brain.
The baby "presented with increasing head circumference on routine pediatric visits", leading to the discovery of a 4.1cm by 4cm by 3.5cm tumour.
Following surgery the mass was identified as a slow-growing tumour called adamantinomatous craniopharyngioma.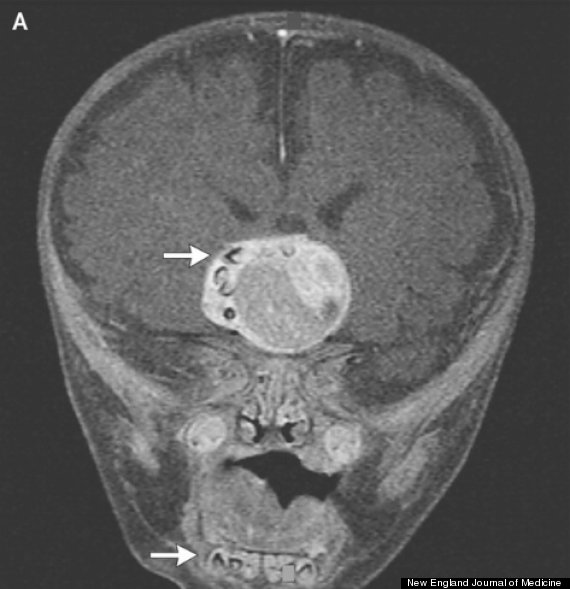 An MRI scan of the baby's brain revealed solid masses within the tumour
The report was published in the 27 February issue of the New England Journal of Medicine.
According to the journal: "Multiple fully-formed teeth were seen in the tumour mass." It adds the tumour arises "from Rathke's pouch, an embryonic precursor to the anterior pituitary".
University of Maryland Medical Centre neurosurgeon Dr Narlin Beaty and Dr Edward Ahn of Johns Hopkins Children's Centre carried out the surgery.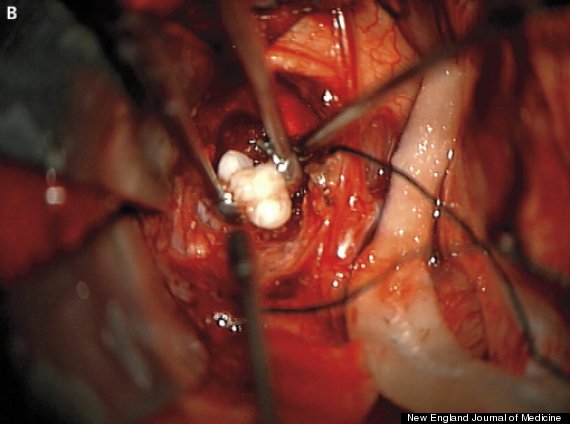 Surgery revealed multiple fully-formed teeth within the tumour
Beaty told LiveScience: "It's not every day you see teeth in any type of tumour in the brain. In a craniopharyngioma, it's unheard of."
He added: "He's doing extremely well, all things considered. This was a big tumour right in the centre of his brain.
"Before the modern surgical era this child would not have survived."
Teeth have been discovered in the brains of patients in the past, but only within teratoma tumours which have also been known to contain hair, bone and even eyes.