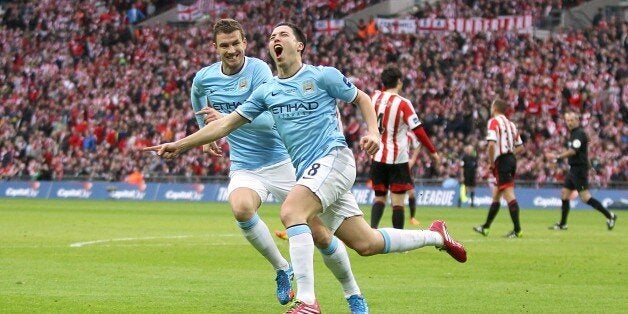 A year ago, Roberto Mancini said he wanted to punch Samir Nasri when his cowardice cost Manchester City a derby defeat. Now, the supporters will want to hug him after he delivered Manuel Pellegrini the first trophy of his Blues reign to complete a remarkable personal turn around and repair an estranged relationship with the club's followers.
Twice a loser in Wembley finals with Arsenal and City, Nasri might have feared a repeat of the League Cup final shock he felt in 2011 when Birmingham surprised the Gunners. The Frenchman left north London to avoid such heartbreak, and on Sunday he was the heartbreaker.
One sweet swing of his right boot in the 56th minute extinguished Sunderland's romantic hopes of a 1973-style upset. For a fourth-from-top versus third-from-bottom contest, the season's first showpiece occasion delivered an entertaining contest in which Goliath wilted against David's pugnacity, only to eventually overpower him.
Had Mancini managed this City side they probably would not have won. In the first 45 they were afflicted with egotism, moodiness and nerves. Trailing by a goal at the interval, their quality told in an opening and relentless 11-minute period which effectively decided the final. At the same stadium 10 months ago, some City fans chanted, "You can stick your Pellegrini up your a**e."
Whatever the League Cup's shortcomings, be it its three-handled trophy or its supposed insignificance for England's bigger clubs, it was an occasion that brought with it the rousing Roker Roar's return. Sunderland's travelling contingent gave Wembley, a soulless bowl of a stadium, a kiss of life when their players warmed up, let alone their entrance for the club's first final in nearly 16 years.
City, whose 12-year absence from Wembley prompted supporters to arrange rendezvous' beneath the demolished twin towers three years ago, empathised. This was their sixth trip to the national stadium in three years, which explained their supporters' fashionably late arrival to fill their swarm of red seats. Wembley Way was a sea of red and it has rarely hosted such fanaticism since it re-opened in 2007.
Such casualness backfired against City in their last cup final. They were at it again after 10 minutes. Vincent Kompany and Martín Demichelis were outfoxed by Fabio Borini after Lee Cattermole robbed Fernandinho, and the Italian craftily rifled past Costel Pantilimon from an acute angle with the outside of his right boot. It was not dissimilar to Phil Bardsley's winner against the Romanian in November. The threat of the 1-0 loomed large.
With the game less than a quarter old, Yaya Touré aired his first grievance. Four minutes later, he was fortunate not to have received a yellow card for dissent. Edin Džeko, like Pantilimon, had earned his starting berth thanks to his League Cup form. Like Pantilimon, he looked overawed. Aleksandar Kolarov copped flak off a section of City fans. Little was going right.
Cattermole, perhaps the most unashamed artisan in British football, was possessed. The 25-year-old linked the defence and attack with surprising precision, even though Ki Sung-Yeung appeared to be designated that role. The yard dog had learned some new tricks.
The Black Cats suffered the odd fright, still. Mannone saved from Samir Nasri, while Bardsley and Borini decisively cleared in scenes reminiscent of the final 10 minutes of a game. Yet it was Sunderland who should have netted next in the 38th minute when Borini, offside, was waved through on goal only for Kompany to catch up with him in the nick of time. If the captain's effort was indisputable, Džeko's wasn't. The City supporters questioned it loudly and angrily when he refused to chase a live ball. Sunderland were as committed as they were undaunted.
Pellegrini retained his patience with Džeko after the pause, and even if City literally had 10 men Sunderland would almost certainly have still reverted to the defensive-minded tactics that worked at the Stadium of Light in November. It didn't this time. What did he say at the interval?
"First of all, that they had 45 minutes more to change the score. It was important for the players to be calm, be patient and trust what they can do. Maybe what happened last year in the final [against Wigan] was in their minds in the first half."
As Poyet's side withdrew deeper and deeper, the freedom Pablo Zabaleta was beginning to enjoy on the right paid off when Touré swept his lay-off into the top corner. He was so deliriously relieved to have equalised it was difficult to deduce whether he had meant it or not. With Sunderland dejected following the equaliser, City showed no pity and Nasri superbly steered the ball past Mannone from Kolarov's deflected cross 145 seconds later. Form is temporary, class is permanent.
"At home, when we beat them, all those shots from outside the box, somehow they didn't go in the top corner or have that bend from Nasri's shot," Poyet said. "We needed that to go for us and in two minutes it was bang bang."
Poyet introduced Steven Fletcher and Craig Gardner for Seb Larsson and the wasteful Adam Johnson. Fletcher mishit a presentable haf-volley in a rare effort on goal for the Mackems, as their first-half exertions handed City the initiative in a placid second 45. The Scottish striker exhibited a Sottish striker's touch in the 89th minute when he comically bundled the ball out of play inside the six-yard box. One minute later, City broke away and substitute Jesús Navas drilled the ball in at the near post to seal their triumph.