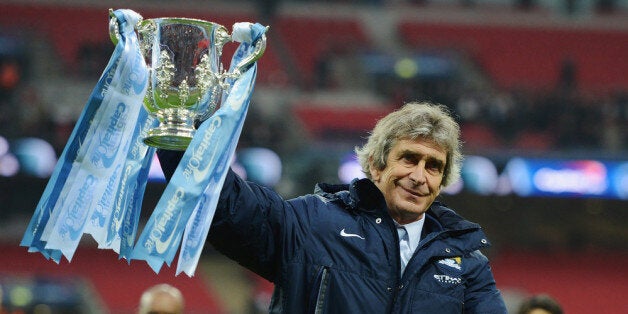 A year ago, Manchester City fans mutinously chanted "You can stick your Pellegrini up your arse" at Wembley. On the morning of their second FA cup final in three seasons, Roberto Mancini's imminent departure had been unofficially confirmed in the newspapers and neither he, nor his followers, were prepared to go quietly.
Irrespective of City's Arab riches, Mancini will forever be remembered as the man who ended a 35-year trophy drought and oversaw one of the most dramatic English championship wins. He will retain his demi-God status amongst City supporters unless he wears a red, white and black scarf, but even they cannot dispute their team under the placid Manuel Pellegrini is superior.
Mancini masterminded some memorable comebacks, yet when he was sacked some City players privately expressed their frustration the news broke on the night of a game. They were prepared to celebrate his dismissal.
The first-half against Sunderland in the Capital One Cup final was afflicted with egotism, nerves and casualness that would have infuriated Mancini. Edin Džeko might not have re-emerged for the second 45 and the threat to punch a player might have been carried out. Pellegrini, instead, retained faith with his starting line-up and it took just 11 minutes of relentless quality to secure City their third trophy of the Sheikh Mansour era.
"First of all, that they had 45 minutes more to change the score," Pellegrini said when asked what he said at half-time. "It was important for the players to be calm, be patient and trust what they can do. Maybe what happened last year in the final [against Wigan] was in their minds in the first half."
Fittingly, Samir Nasri, who Mancini wanted to punch when his cowardice deflected in Robin van Persie's derby winner last season, struck the winner. The Frenchman has, ironically, performed well since Mancini's threat was aired almost a year ago, but his man of the match display at Wembley completed a personal turn-around.
Nasri was particularly missed in City's 1-0 defeat to Manchester City last month, only Sergio Agüero's absence predictably dominated the post-mortem. Pellegrini made an error with his selection, but the dearth of attacking options and Eden Hazard's flamboyant dominance highlighted how influential Nasri could have been.
Hauled off after 54 minutes in the FA Cup final last year, Nasri may have moved elsewhere had City retained Mancini. The Italian was prepared to ditch Joe Hart in favour of Stoke's Asmir Begović, and it is probable Mancini had identified Nasri, amongst others, as another slice of deadwood to be hacked off.
"So much joy, so much pride as well," Nasri said after the final. "I lost the two finals that I played here before. Today it was really important to win." He faded under Mancini's tough love and many would have doubted his durability in the post-Mancini era.
Pellegrini's pacifism has been pivotal behind City's resurgence this term. There are no more scuffles snapped at Carrington, the press conferences are stultifying, rather than stimulating, and the football is some of the best in the club's history. Almost everyone (Džeko too often cuts a sulky expression) is happy, as witnessed when goalkeeper Costel Pantilimon hared up the pitch to join in with the harmonious celebrations following Jesús Navas' clincher.
Asked if he would get drunk having won his first competitive trophy in Europe, Pellegrini was still unruffled.
"No, because I didn't feel that I needed a trophy so much," he responded. "It's very important to win a trophy but to be here in Europe, for 10 years, if you're trying to win trophies in clubs that it's possible to do it [with] you will always frustrate.
"I was very happy with my five years in Villarreal and my three years in Málaga. I won the trophy that was very important at that moment for Villarreal [2004 Intertoto Cup] because we could play in the Europa League and maybe the only club before Manchester City was Real Madrid. I had just one year there and had the most amount of points in the history of Real Madrid at that moment, so I was not frustrated.
"And I was absolutely sure the way we are going so far we were going to win titles and today we won the first one."