Kicking off the first week of our Conversation Changers campaign, centred around championing women who are helping to change the status quo, we asked the presenters of online show The Fox Problem to tell us what women need to focus on in 2014.
Hosted by Gemma Cairney from BBC's Radio 1, Georgia LA from Vevo and SBTV and Georgie Okell from Fuse News, the show is tech savvy, lively and female-facing, and they debate everything from news to entertainment. Heck, they're even funding the show from their own pockets.
So what five things do they think needs to be on the agenda?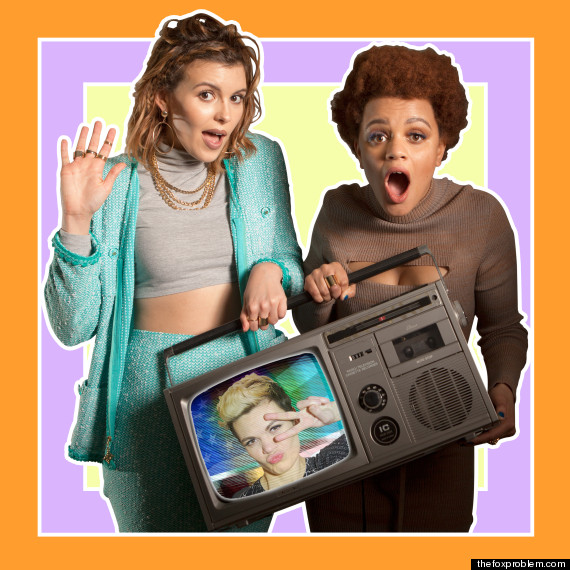 Georgia says:
Women in parliament...
The BBC banning all male panel shows is a step in the right direction but with such a small percentage of women making our laws in parliament it's only a public facing shiny start. Women can't get to high powered positions in any company if they (often) have to choose between family and work - legislation that the government could change, but its not a priority if there's not enough women in the building. We say quotas!
SEE ALSO:

Awards Founder Pinky Lilani Reveals What She's Learned About Women

Oscar Winner Lupita Nyong'o On Beauty And Following Your Dreams
Why we support a culture of women hating other women...
Women's wobbly bits are circled, and we ponder who's going through a meltdown because their husband left them on a weekly basis across the covers of dentist reception magazines. I do think and hope this culture is shifting along generational lines, but they pry on the darker greener human emotions and we should probably all put our hands up and admit that we find them salacious but in doing so are supporting the madness!
Instagram making us feel bad about ourselves...
Social media is great but also can make me feel shit. Obviously it's designed for people to show off, and we probably all have at some point but we shouldn't be afraid to admit we've used it to stalk an ex, check what a girl from school is up to and sometimes it's a pile of *****! Real world's better I'd say.
Gemma says:
The glorious bush
Let's chat about our pubes. I'm passionate about pubes, the freedom of choice is as key as it is with regards to the barnets on our heads. There is no right or wrong, if your pain threshold and backwards thong leotard wearing ways lead you to want a Brazilian wax then good on you. If it means that you prefer it furry that doesn't matter either.
I interviewed a doctor recently who told about teenage girls coming in with injuries, like hot wax burns from home kits or from using off hair removal cream because of trying to achieve bald vaginas, to look like they do porn. This makes me want to cry. Let's relax on the rules of pubes.
Property obsession
Panic has set, just when it's become salivatingly hard to fathom saving a deposit for a first house EVERYONE wants a mortgage. It's not necessarily the key to eternal joy. It can cause friction in relationships, debt and stress. Though it creeps in, takes hold and has become an obsession. Really we should be obsessing over how we can make the housing market more accessible and rapid gentrification should discussed and considered.
Watch The Fox Problem powered by HP live at 7.30pm on 4 March here.