England will wear an all-white kit at this summer's World Cup, following pressure from Fifa.
Football's world governing body have urged nations to don single-coloured strips to enhance the High-definition pictures broadcast from Brazil.
The hosts, however, have refused to budge and will wear their traditional yellow shirts and blue shorts. France's Nike kit will feature white shorts with their navy blue shirts, but other major nations such as Spain, Germany and Italy will sport one colour.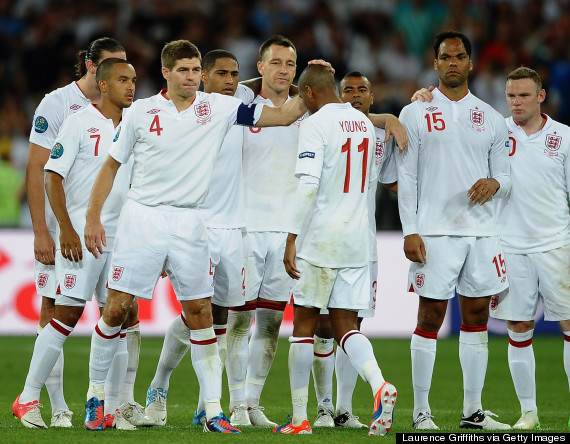 England wore an all-white kit for their defeat to Italy
Security was tight at the Grove Hotel in Hertfordshire yesterday, where England players posed in the new kit ahead of its official launch before the finals.
Umbro provided the Three Lions with an all-white strip at the European Championship two years ago, when England were eliminated on penalties by Italy.
England also wore an all-white kit at the 2010 World Cup, when they drew with the United States and Algeria before they reverted to all-red for the final group match with Slovenia.
They also wore the all-white ensemble against Argentina in 1998 and 1966, as well as for their iconic group game defeat to Brazil at the 1970 World Cup in Mexico.