UPDATE

WATCH: Russia Today's Liz Wahl Quits Live On Air In Protest At 'Whitewashing Of Putin'

Russia Today's Abby Martin Says She Won't Go To Crimea, Despite RT's Statement (VIDEO)

Russia Today responds, telling HuffPost UK: "Contrary to the popular opinion, RT doesn't beat its journalists into submission, and they are free to express their own opinions, not just in private but on the air. This is the case with Abby's commentary on the Ukraine.

"We respect her views, and the views of all our journalists, presenters and program hosts, and there will be absolutely no reprimands made against Ms. Martin.

"In her comment Ms. Martin also noted that she does not possess a deep knowledge of reality of the situation in Crimea. As such we'll be sending her to Crimea to give her an opportunity to make up her own mind from the epicentre of the story."

However, Martin subsequently tweeted that she would not be going to Crimea, despite the statement put out by RT.
A presenter on Russia Today, the broadcaster funded through the Kremlin, has denounced the presence of Russian troops in Ukraine, saying she "cannot stress enough" how strongly she feels about Russia's invasion of Crimea.
Going spectacularly rogue, Breaking the Set host Abby Martin, on the American version of the channel, ended her show by saying she "wanted to say something from my heart about the ongoing political crisis in Ukraine and Russia's military occupation of Crimea."
Pacing the Washington studio, Martin continued: "Just because I work here, for RT, doesn't mean I don't have editorial independence and I can't stress enough how strongly I am against any military intervention in sovereign nations' affairs.
"What Russia did is wrong."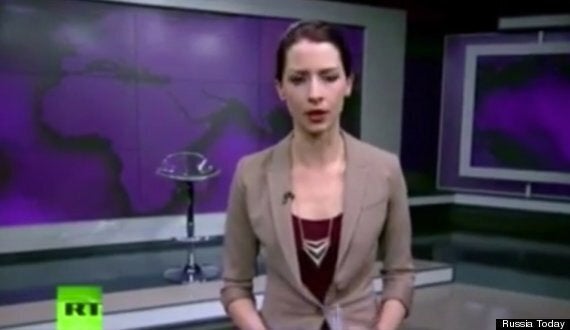 Host Abby Martin, on the American version of the channel
In a 90 second clip, Martin admits she has gaps in her knowledge about Ukraine's cultural make-up and history, but said that does not change the fact that "military intervention is never the answer".
"I will not sit here and apologise for or defend military action," she said.
She slammed the coverage of the escalating crisis from all sides of the media spectrum as "disappointing.. and rife with misinformation".
"All we can do now is hope for a peaceful outcome for a terrible situation and prevent another full-blown Cold War between multiple superpowers. Until then, I'm telling the truth as I see it," she ended.
Some experts have commented that Martin appeared to be reading from an autocue, and therefore must have had her producer's consent for the segment. Russia Today has not responded to a request for comment from HuffPost UK but the broadcaster's editor in chief Margarita Simonyan tweeted on Tuesday that Martin's spiel was "consistent" with her usual approach.
Martin has made no direct comment on the incident on her Twitter feed, but retweeted a quote from artist Vincent VanGogh.
Russia Today is widely perceived as the voice of the Kremlin, with Reporters Without Borders describing it as a "step of the state to control information." The channel is often virulently anti-American and has been accused of ignoring or white-washing criticism of President Vladimir Putin, and of controversial issues like the imprisonment of punk band Pussy Riot.
Martin herself is a 9/11 Truther, calling the government's version of the events "propaganda", and has accused Israel of using "Hitler's methods".
Related