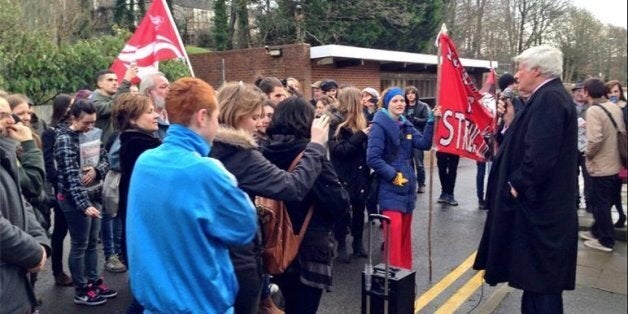 Human rights lawyers have accused a university of being "unlawful", "devious" and guilty of abusing disciplinary proceedings by refusing its students the right to legal representation.
After the original disciplinary hearings collapsed in January under claims of bias, the university have used a different procedure which will not culminate in serious punishment for the students but does also not entitle them to legal representation.
Three students refused to cooperate with their hearing on Tuesday and the remaining two are expected to do the same in their hearing on Thursday.
ITN solicitors, who are representing Michael Segalov, Adriano Marlotta and Lewis Nielsen, wrote to the university saying: "We maintain that these proceedings are unlawful. This is because the proceedings amount to a clear abuse of process and have in any event been established outside of the relevant Regulations.
"Following the collapse of the Panel (in January), the university announced that 'the panel for the hearings will be convened in due course with a new chair'. However, the panel has not been reconvened. Instead, it has been decided that the 'most appropriate way forward' is to proceed on the basis of Schedule A [a more informal disciplinary procedure].
"Our clients have not been given any explanation for this decision but have been told they will not be entitled to legal representation at the disciplinary meeting. In the absence of any other credible explanation, we can only assume that the decision has been taken to proceed under Schedule A because under those Regulations our clients will not have the benefit of legal representation."
The decision by the University of Sussex to reprimand student protesters has attracted high profile attention.
Doughty Street lawyer Geoffrey Robertson QC accused the university of "devious tactics", saying the institution is merely trying to save face.
In a statement passed onto HuffPost UK, the lawyer said: "This devious new tactic by the university is an abuse of process and places these students in double jeopardy.
"These administrators tried to expel them by a thoroughly unfair process and because they had the right to legal representation, that process was blown apart. Now, instead of doing the decent thing and dropping all charges, they are trying to save face by putting them through a process that does not permit them legal representation.
"The administrators, on the other hand, have their own very expensive legal advice from Matrix chambers in London.
"This is so palpably unfair that it is a matter for despair that these people can be in charge of an important university that should be a community of scholars. Surely any sensible administration would now let bygones be bygones, drop the case and let the students get on with their studies."
The university claims it is within its rights to approach the disciplinary process under Schedule A of the university regulations.
A spokesperson for Sussex told The Huffington Post UK: "Several students continue to be subject to a disciplinary process, since they are alleged to have breached student regulations.
"(The Student Discipline Committee) has taken the view that the appropriate route now is not to reschedule a disciplinary panel hearing but to have each case heard by a Head of School under Schedule A of the regulations. This is different from the disciplinary panel and is appropriate where any guilty outcome would not require permanent or temporary exclusion from the University, nor any fine in excess of £250.
"Students can have support with them (eg a friend or a students' union rep) but that person does not speak on their behalf. It is a long-standing provision of the discipline regulations agreed by the Student Discipline Committee and Senate that the presence of lawyers for this level of disciplinary case is not necessary or appropriate.
"This is a normal part of the disciplinary process at Sussex, and the University typically has some 15-20 cases heard by Heads of School each year."
Michael Segalov told HuffPost UK: "Management have continually ignored calls to drop these disciplinary hearings, from students, staff, parliament and beyond. It now looks increasingly likely that the university is intent on continuing with these illegal and politically motivated hearings.
"If the administration fails to drop this process now, our legal team are currently working on our response, but needless to say the longer this continues the bigger the hole management are digging."
The original disciplinary hearings were abandoned in January after the neutrality of chair deputy vice-chancellor Prof Michael Davies was challenged in light of comments made in public condemning the actions.
Some students are planning to hold a demonstration against the latest hearings at the University of Sussex on Thursday.