Tensions have escalated in the strategic Ukrainian peninsula of Crimea Tuesday, with troops loyal to Moscow apparently firing warning shots at protesting Ukrainian soldiers.
Today at least three shots were fired, according to reporters, with the warning being given by Russian troops to the Ukrainians that if they came any closer they would be shot in the leg, the BBC's Daniel Sandford said.
Pro-Russian troops who took control of the Belbek air base in Sevastopol warned the group of about 300 Ukrainians, who were unarmed, not to approach.
"You are deliberately provoking us," the Russian troops said to the men. "How are we provoking you? We have no weapons," the Ukrainians responded.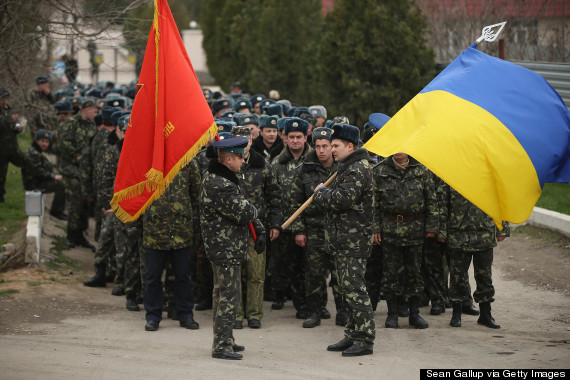 Unarmed Ukrainian troops march to confront Russian soldiers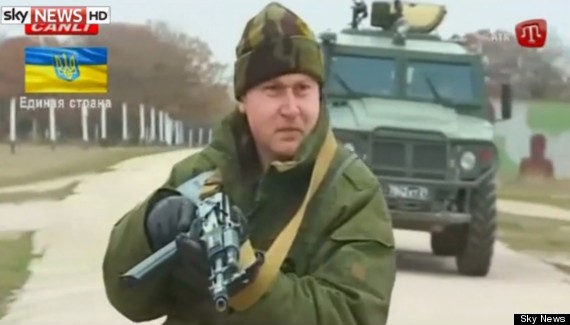 A Russian soldier armed with a machine gun watches the Ukrainian troops
TOP STORIES TODAY
Ukraine's 204th tactical aviation brigade when they just arrived to face down the Russians in Belbek: pic.twitter.com/Zz91TuJHXf

— Simon Shuster (@shustry) March 4, 2014
2 #ukraine soldiers look out at the Russian forces confronting them at Belbek airbase #crimeapic.twitter.com/CzhDP8QZAo

— James Mates (@jamesmatesitv) March 4, 2014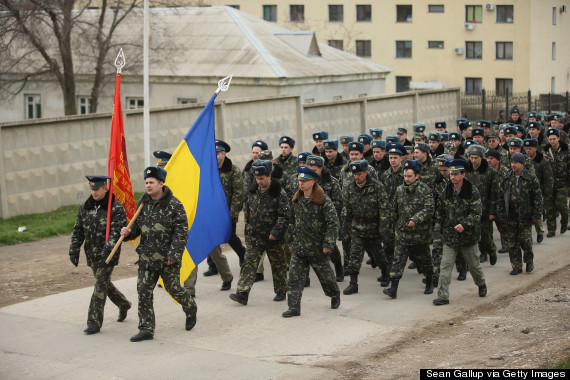 The Ukrainian soldiers, who previously manned the airfield and were demanding their jobs back, were singing the national anthem, proudly holding their flag and trying to go to their workplace, the BBC added.
As Ukraine's main military bases on the peninsula remain surrounded by Russian forces, the wives and mothers of the Ukrainian soldiers have joined them in emotional scenes at the airbase. They told reporters: "We are here to help with morale."
Sky News said the women were standing between the two lines to prevent any bloodshed.
"There are around a dozen women, wives and mothers, standing in front of their men because they believe they (Russian soldiers) will be more reluctant to fire on them," Sky's Katie Stallard said.
Wives of Ukrainian officers prepare to join the men marching on Belbek airbase pic.twitter.com/Z7J0FLELer

— Anshel Pfeffer (@AnshelPfeffer) March 4, 2014
The column of troops, carrying the Ukraine and Soviet (!) flags, about to march on the Russian occupied airstrip. pic.twitter.com/prR9rfP7Fp

— Simon Shuster (@shustry) March 4, 2014
The shots were apparently the first fired since pro-Russian troops — estimated by Ukrainian authorities to be 16,000 strong — tightened their grip on the Crimea Peninsula over the weekend.
At a press conference Tuesday Vladimir Putin justified Russia's actions by dismissing the new Ukrainian Government as illegitimate and saying his troops intervened because "we could see the neo-Nazis rearing their heads."
"Thieves are being replaced by other thieves," he said, adding he understands the opposition's demands for change, but that he "does not accept" what has happened in Kiev, calling it "unconstitutional and illegal."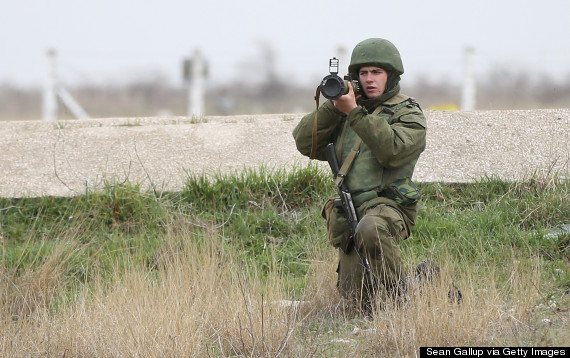 A Russian soldier aims a rocket propelled grenade launcher at a group of unarmed Ukrainian troops
Russia revealed late Monday that Viktor Yanukovych asked the Kremlin to send troops across the border to protect civilians and "establish legitimacy, peace, law and order," Moscow's UN envoy claimed.
Putin today said "in legal terms there is only one president, and that is Yanukovych."
He called the new interim government "complete nonsense," saying it "does not comply with any rules."
Standoff at Belbek continues. Russian commander said would respond to Ukrainian demand by Noon. #Ukraine#Crimeapic.twitter.com/saoUUCDT0v

— Anshel Pfeffer (@AnshelPfeffer) March 4, 2014
The dramatic developments came as the US secretary of state, John Kerry, is due to fly into Kiev to show support for the new government in Ukraine.
Meanwhile the Kremlin has ordered Russian troops who were on exercises near Ukraine's eastern border to return to their barracks.
The Russian President's spokesman Dmitry Peskov told Interfax news agency early Tuesday that the premier had ordered the troops to return to their usual stations following tense UN talks last night.
At the meeting, Ukraine's ambassador sent a three-page letter to every member state, accusing Russian forces of using stun grenades against Ukrainian soldiers and trespassing in Ukrainian airspace.
Ukrainian soldiers in Belbek staying put but allowed to break ranks and smoke #Crimea#Ukrainepic.twitter.com/rSgDuj2Zk8

— Anshel Pfeffer (@AnshelPfeffer) March 4, 2014
Talks with Russians failed. Ukrainian soldiers at Belbek prepare to march to their aircraft under threat of gunfire pic.twitter.com/KVpiGWAPB3

— Anshel Pfeffer (@AnshelPfeffer) March 4, 2014
Standoff not over yet @ #Belbek#Russia & #Ukraine facing each other, not moving Dozens of guns trained on Ukrainians pic.twitter.com/7fqJ01mwOs

— Anshel Pfeffer (@AnshelPfeffer) March 4, 2014
Ukraine yesterday claimed Russia had set a deadline for its forces in Crimea to surrender by 03:00 GMT. So far there have been no reports of any incidents, while Russia has denied issuing any such ultimatum.
Ukrainian military personnel besieged in their bases had a nervous wait, many of them preparing for an attack.
A deputy commander at one of Ukraine's units, named only as Major Lisovoy, told local ATR TV that "we're all in high spirits, ready to defend our base.
"There was no official ultimatum, it was done indirectly via mobile phones."