The morning started with gunshots, a tense airbase stand-off and a "rambling" press conference held by Vladamir Putin. It ended with a game of football.
The Crimea crisis took a bizarre twist as Ukrainian soldiers ushered "English speakers" off grass at the Belbek airfield and began kicking a tattered yellow leather football around.
It came as world leaders and diplomats frantically work to resolve the crisis and only hours after the same unarmed soldiers had been involved in a dramatic stand-off with suspected Russian military at the airfield.
Ukrainian soldiers now playing football at Belbek. pic.twitter.com/gsNc4BhfDZ

— Mark Nelson (@camera_markitv) March 4, 2014
At least three shots were fired, according to reporters, with the warning being given by Russian troops to the Ukrainians that if they came any closer they would be shot in the leg, the BBC's Daniel Sandford said.
Pro-Russian troops who took control of the Belbek air base in Sevastopol warned the group of about 300 Ukrainians, who were unarmed, not to approach.
"You are deliberately provoking us," the Russian troops said to the men. "How are we provoking you? We have no weapons," the Ukrainians responded.
The Ukrainian soldiers, who previously manned the airfield and were demanding their jobs back, were singing the national anthem, proudly holding their flag and trying to go to their workplace, the BBC added.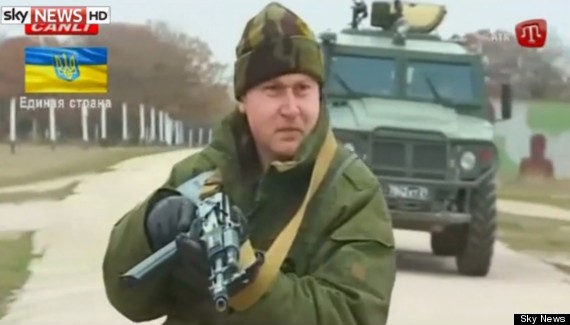 A Russian soldier armed with a machine gun watches the Ukrainian troops
TOP STORIES TODAY
Earlier, Putin has ordered troops participating in military exercises in western Russia near the Ukraine border to return to their permanent bases, according to reports.
The Russian President's spokesman Dmitry Peskov told Interfax news agency early Tuesday that the premier had ordered the troops to return to their usual stations following tense UN talks last night.
At the talks, it emerged the ousted Ukrainian President Viktor Yanukovych asked Russia to send troops across the border to protect civilians and "establish legitimacy, peace, law and order," Moscow's UN envoy claimed.
Vitaly Churkin told the Security Council's emergency meeting Mr Yanukovych wrote to Putin on Saturday.
Thousands of Russian troops have been pouring into the Crimea region and Ukraine's UN envoy Yuriy Sergeyev said Russia has deployed about 16,000 troops to the peninsula.