A London double-decker bus caught on fire outside London Waterloo, one of the city's main transport stations on Tuesday night.
The London bus driver, David Wisbey, was the only person on board when the fire started, the Evening Standard London Newspaper reported. He received treatment for smoke inhalation immediately, and did not require hospital treatment.
The pub opposite the scene, The Hole In The Wall, told Huffington Post UK that entire road was cordoned off for a few hours, but that the fire on board the route 243 was most serious between around 6 and 7pm.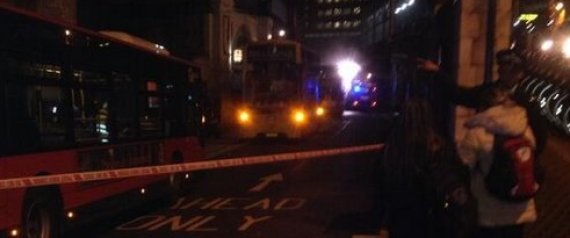 Witnesses stood by and watched as firefighters tackled the blaze
The Evening Standard quoted pub worker Ieva Reitaite, who said customers were told to stay inside while the blaze was tackled.
She said: "We were told not to leave the building for a while as the cordon came right up to the pub."
A long stretch of road outside Waterloo Station was cordoned off, and firefighters spent 20 minutes extinguishing the fire.
Meanwhile, as a result of the fire, other bus routes on the London Transport for London network were temporarily diverted.
Transport for London has not yet issued a statement on the incident.
It is suspected that the fire was triggered by a faulty headlamp, when driver Wisbey was returning the bus to the depot.