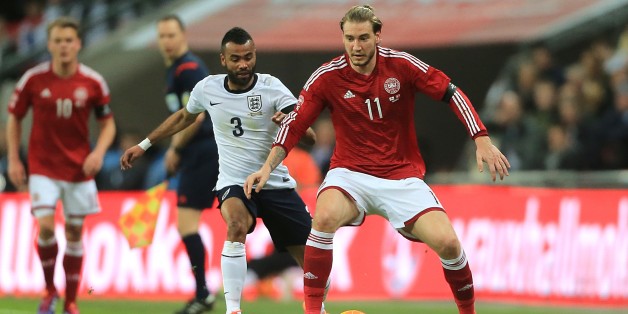 Nick Potts/PA Wire
Denmark coach Morten Olsen gave a damning assessment of Arsenal striker Nicklas Bendtner's performance in Wednesday's 1-0 defeat to England at Wembley, claiming his effort was "not enough".
Bendtner started up front for the Danes but was utterly ineffectual as Daniel Sturridge's late goal decided an uneventful contest.
The 26-year-old will leave Arsenal at the end of the season and Olsen was unimpressed by his latest performance.
"From Bendtner, it's not enough," Olsen said. "He's not performing enough. Of course, he's not playing [at Arsenal] but if he's not finding a club... we cannot use him. That's not enough. We have to use other players.
"But I am hopeful he will find a club in the summer because we knew, and we know, and we saw it at the European Championship in 2012, when he was one of the best strikers but he has to play every week and with his big body he has to be in a very good physical condition otherwise, you saw the performance today. It's not enough."
Olsen, Denmark coach since 2000, ended his press conference - conducted completely in English - on a mischievous note, however.
"I wish you good luck in the World Cup," he told the English press. "You will need it!"