Paddy Power's controversial Oscar Pistorius advert has become the most complained-about UK advert of all time with the Advertising Standards Authority demanding Irish bookmaker Paddy Power to withdraw it immediately.
The advertisement mockingly features Pistorius' face on a golden Academy Award statuette, accompanied by the words: "It's Oscar Time. Money Back If He Walks. We will refund all losing bets on the Oscar Pistorius trial if he is found not guilty."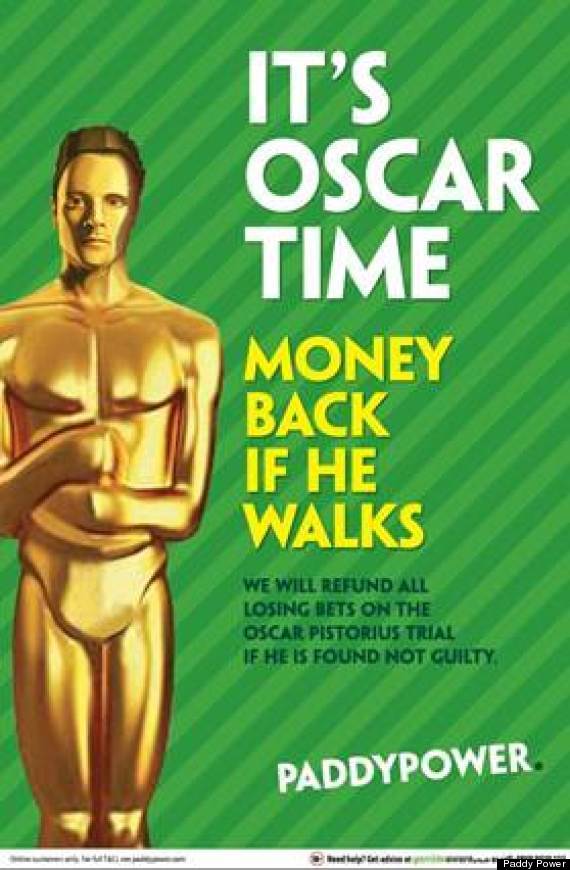 The controversial Paddy Power advert has become the most complained-about advert of all time
Paddy Power stood by their controversial advertising and told the Huffington Post UK: "We are offering betting on the outcome of a trial, not a murder… We give our customers the chance to put their money where their mouth is – much like any opinion poll'.
However the advertising watchdog ASA has received more than 5,200 complaints, the highest number of complaints ever received for an advert, and ruled on Wednesday that it must be removed at once.
Thousands more have signed up to an online petition on change.org.
The petition, which has now attracted more than 122,000 signatures, claims that "promoting the opportunity to make money from it is a vile and offensive act which anyone with a sense of human dignity and respect for human life must reject."
Jean Hatchet, who launched the petition, said: "I am a survivor of domestic violence and abuse and I know how many women around the world are suffering right now thinking that they are lucky to be alive when poor Reeva Steenkamp is dead."
The petition demanded Paddy Power "remove your offensive betting on the outcome of the Oscar Pistorius trial and donate any profits so far to a women's charity fighting violence against women."
An ASA spokesperson said: "The ad guarantees a refund on all losing bets if Paralympian gold medalist Pisotrius is found not guilty of murdering then girlfriend Reeva Steenkamp.
"We consider the ad may be seriously prejudicial to the general public on the ground of the likely further serious and/or widespread offence it may cause."
The ASA was also concerned that "the good reputation of the advertising industry may be further damaged by continued publication of this ad."
The advert has received criticism from senior Labour MPs including shadow home secretary Yvette Cooper, shadow minister for International Development Jim Murphy, and ex-deputy chair of the Labour Party Tom Watson.