Playboy shoots must be pretty sexy places to be, right?
All those beautiful naked women amid a backdrop of luscious hotels, fancy cocktails and tropical islands.
Well photographer Patrick van Dam's behind-the-scenes images show a rather different version of events.
Scroll down for a gallery of more pictures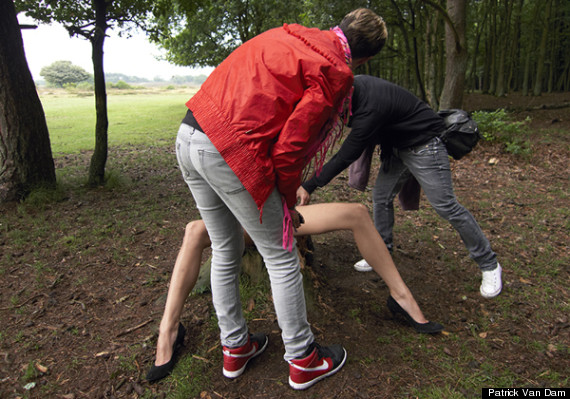 Behind the curtain: A spreadeagled model receives some final 'adjustments'
That lady may have been looking joyously perky in the final proofs, but in reality she was perched on a windy, rainy hill, probably wishing she was anywhere but.
Likewise, I bet you hadn't realised the pouting glamour puss in the pool was actually perching precariously on an upturned mop bucket.
Van Dam became art director for Playboy Netherlands in 2004 and in the intro to his book Behind The Scenes, he admits thinking: "I was going to live the dream. Naked ladies… How on earth, I wondered, was a red-blooded guy supposed to act unaffected and coolly professional in the presence of such temptation?"
As van Dam "acclimatised" to his new role, he began to notice that "behind the scenes, the glamour fades. No red carpet and champagne – more like Evian and a cheese sandwich."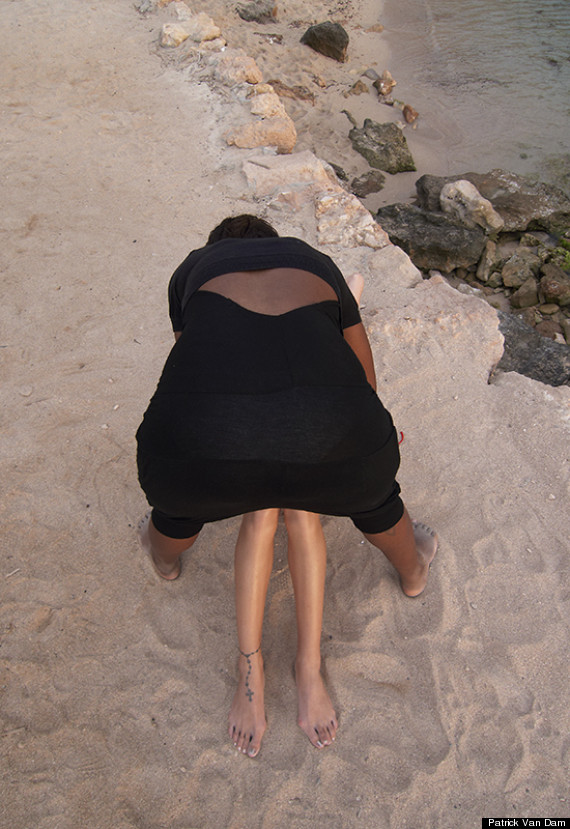 (But don't feel too sorry for him, as he adds: "Nobody believes, for instance, I regularly rub nipples with a cold can of soda, to make them look even more pert in the picture. All in a days' work.")
Van Dam began documenting these spontaneous, undirected moments for his book, which sold out so fast a second edition is already in the works.
He told HuffPost UK: "The most heard comment is that people love the humour in the images whilst that was never the intention when I made them.
"It does show that the atmosphere behind the scenes is so important. You can have a great photographer and location but when the mood is not right you won't get good photos.
"So we always tried to keep things as light as possible on the set, with jokes to break the ice, knowing some of the models were very nervous."