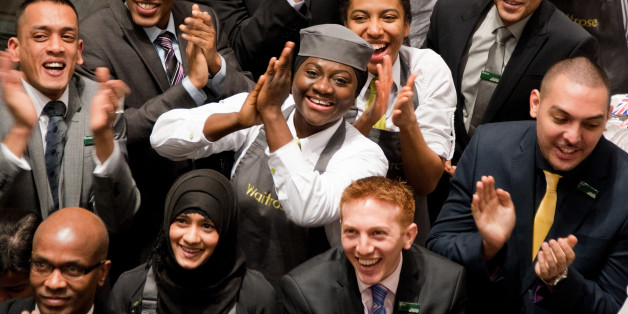 LEON NEAL via Getty Images
The John Lewis Partnership has announced that more than 90,000 staff are set to get a bonus worth 15% of salary from a pot of £202.5 million after the group posted a 9.6% rise in annual profits.
The partnership, which is owned by its 91,000 employees, revealed this 15% bonus in a minor decrease from last year's 17% of salary in bonus due to the increased cost of servicing the group's £1 billion pension fund deficit.
John Lewis and Waitrose managed to increase their market share for the fifth consecutive year, with profits growing by nearly 10% and posting sales of over £10 billion.
The partnership revealed pre-tax, pre-bonus profits of £376.4 million for the 52 weeks to January 25, which were bolstered by successful Christmas trading for the department store chain and Waitrose supermarket business.
Charlie Mayfield, Chairman of John Lewis Partnership, said: "This has been another good year for the Partnership. Both Waitrose and John Lewis increased market share for the fifth consecutive year, profit before exceptionals has grown by almost 10% and, for the first time, we have achieved sales of over £10 billion.
"As a result of our performance, I am delighted that 91,000 Partners will receive a Bonus of 15%, equivalent to nearly 8 weeks' pay. The Bonus reflects the balance of a strong trading year, but also the increased costs of pension provision. The exceptional costs of £47m, relating to holiday pay premiums (announced in August), did not affect the bonus percentage."
See also: