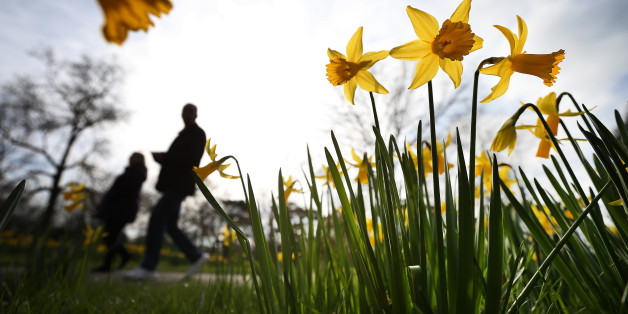 Peter Macdiarmid via Getty Images
Parts of Britain will be hotter this weekend than in Mediterranean countries such as Greece and Turkey, forecasters have said.
The mercury is due to hit 18C (64.4F) at the weekend as spring tightens its grip on the country.
Sunday is set to be the hottest day of the year so far, with London, East Anglia and the south east set to reap the best of the sunshine.
And although dropping back slightly after Sunday the mild temperatures are set to continue into the start of next week, according to weather service company Meteogroup.
Forecaster Nick Prebble said: "Certainly for central and south eastern parts of the UK it looks like a dry weekend, the warmest day is looking like Sunday.
"It is looking like 18C should be obtainable on Sunday."
That temperature would mean England would be warmer than parts of the Eastern Mediterranean, including Greece and Turkey, he said.
Tomorrow is set to be slightly cooler, he added, but overall the warmer weather will continue into next week, with temperatures reaching 13-14C (55-57F) on Monday and Tuesday.
Yesterday was the hottest day of the year so far, with the Met Office recording 15.5C (59.9F) at Gravesend in Kent.
The pleasant temperatures are in stark contrast to March last year, when the average temperature was 2.2C (36F).
But the weekend weather is not all good news. Mr Prebbles said Scotland and north west England will be cooler and could see rain on Sunday.