Ukraine may boycott the Winter Paralympics in Sochi amid the escalating political crisis.
The president of the Ukrainian Paralympic Committee made an emotional plea for peace on the eve of the opening ceremony, describing the toll the growing fear of conflict between Russia and his country was having on his team.
Valeriy Suskevich had to fight back tears as he explained how concerned his 23 athletes were about the situation back home, saying almost all of them were "very nervous" and "very afraid".
"Almost all of my sportsmen on the ice cry," he said.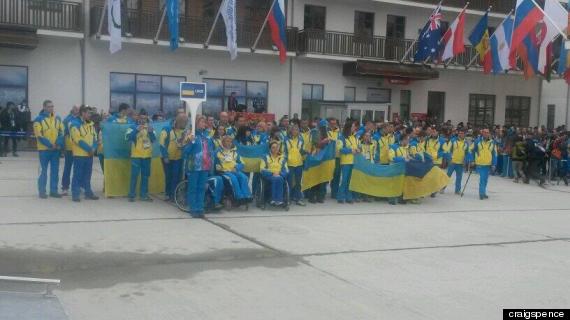 The Ukraine team arrive at the welcome ceremony on Thursday
The Ukrainian team made their feelings known as they chanted "Peace for Ukraine" following their welcome ceremony, which they cut short, and Suskevich admitted he could not envisage them competing without a peaceful resolution to the dispute over the Crimea region.
"This Paralympic Games is a unique situation," he said. "Never before in the history of the Paralympic movement was there a situation like this.
"My sportsmen dream about participating, but not without the Ukrainian people. The national team represents the Ukrainian people, it's not separate. For us it's very important be together with our people.
"The Paralympic movement is the achievement of mankind, the greatest achievement. It's not possible that this achievement can be combined with military (action), with war.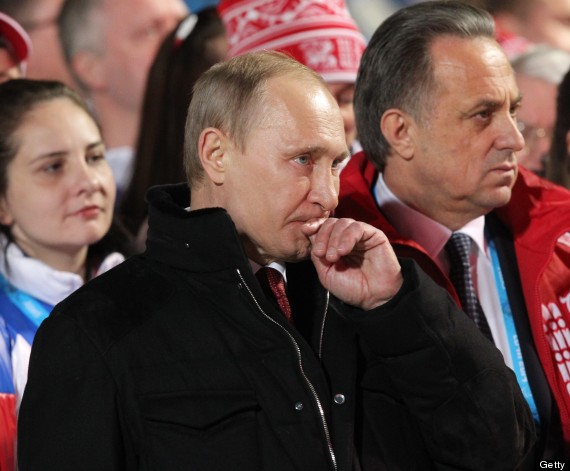 President Putin attended the welcome ceremony on Thursday
"Peace for my country is the foundation for the decision concerning the participation of Ukraine in the Paralympic Games."
Suskevich called on world leaders to help his country, but sounded a downbeat note when asked if he was afraid there would not be peace, saying: "Yes, I'm afraid."
Suskevich was due to meet with his team, as well as members of the Russian Paralympic Committee and the International Paralympic Committee, to decide on what course of action to take.
The Ukrainian Committee has given the IPC the name of a flag bearer for the opening ceremony and completed all the administration necessary to take part in the event.
Great Britain will have no political representation at the ceremony after ministers agreed to boycott the Games. Prince Edward has pulled out of attending on the advice of the Government.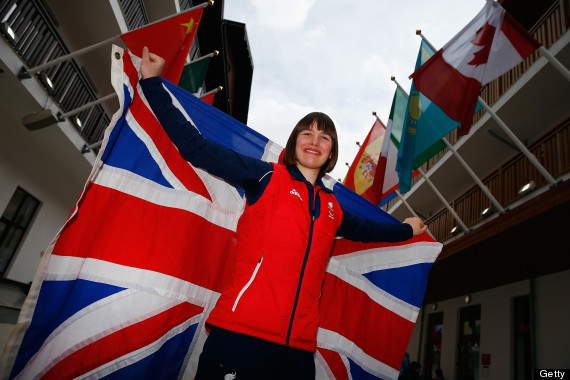 Millie Knight will carry the flag into the stadium for Great Britain
But it will be a hugely proud occasion for 15-year-old alpine skier Millie Knight, who will carry the flag into the stadium.
The action gets under way on Saturday, when Britain's visually-impaired skiers Kelly Gallagher and Jade Etherington, along with guides Charlotte Evans and Caroline Powell, and sit-skier Anna Turney compete in the women's downhill, while the wheelchair curling team get their campaign under way against Canada.