Ukraine will compete in the Winter Paralympics in Sochi.
The president of the country's Paralympic Committee announced his team would not boycott the event, which gets under way with the opening ceremony on Friday night, over the escalating tensions with Russia.
Valeriy Suskevich said at a news conference: "We are staying at the Paralympic Games."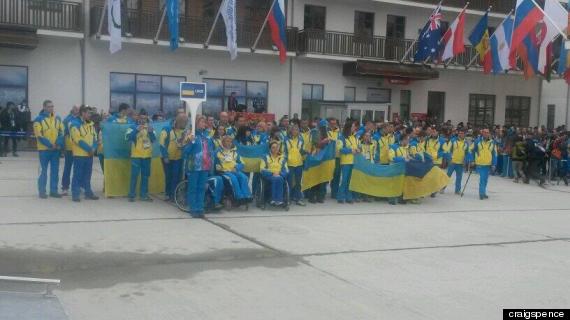 The Ukraine team arrive at the welcome ceremony on Thursday
Suskevich warned, though, that any escalation of military conflict would result in the team leaving Sochi.
"I declare should this happen we will leave the Games," he added. "We can not possibly stay here in this case."
He revealed he had a private meeting with Russian President Vladimir Putin late on Thursday night, during which he put across his request for peace during the Games.
He said the meeting was "calm", "polite" and "respectful".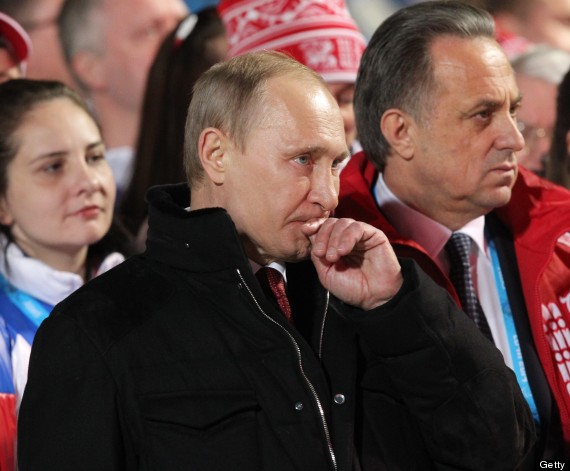 President Putin attended the welcome ceremony on Thursday
Suskevich said he did not receive "any guarantees", but said it was "extremely important" Putin agreed to listen.
He said Putin told him that he would "think about" his points.
Suskevich added that Ukraine's parade at the opening ceremony would have a "special format, a very restrictive format".
Ukraine had on Thursday appeared on the brink of pulling out of the Games, with Suskevich giving a series of emotionally-charged interviews following his team's welcome ceremony, in which he laid bare the toll the crisis in his country was having on his team, saying they were "very nervous" and "very afraid".
At one point he had to stop talking as he fought back tears.
He said peace in his homeland would be the "foundation for the decision" concerning their participation and that military action was incompatible with the ideals of the Paralympic movement.
The whole team had chanted "Peace for Ukraine" as they walked back to their accommodation after the welcome ceremony.