Manchester United have received a transfer boost after Bayern Munich midfielder Toni Kroos admitted a transfer to the Premier League is a "possibility".
United manager David Moyes has watched Kroos in person twice this year - at Borussia Mönchengladbach and Arsenal - and was also photographed talking to the midfielder's agent.
Kroos, 24, is out of contract at Bayern next year and his wage demands are "through the roof", according to club president Franz Beckenbauer.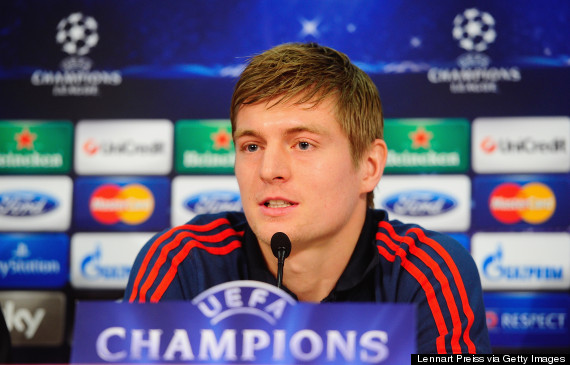 Kroos, in Munich on Monday, is one of United's main targets
His brother, Felix, said last week Kroos was "considering" a move to United and ahead of Bayern's Champions League last 16 return leg with Arsenal, his sibling spoke briefly about his contract situation.
"No decision has been made [about my future]. It is no secret that the Premier League is a possibility for me," Kroos said.
Bayern boss Pep Guardiola was quick to quash doubts over Kroos' future, though.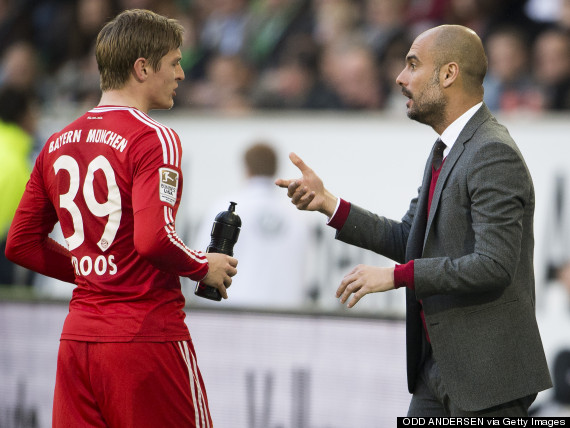 Guardiola is keen to keep Kroos in Munich
"I have told him I can make him an even better player. I hope I will have him many seasons," Guardiola said.
Kroos started in Bayern's 6-1 evisceration of Wolfsburg on Saturday and played an instrumental role in the 2-0 win at Arsenal three weeks ago.
It was Kroos' pass that tempted Wojciech Szczęsny off his line to upend Arjen Robben and receive a red card before the Germany international scored a stunning opener at the Emirates Stadium.