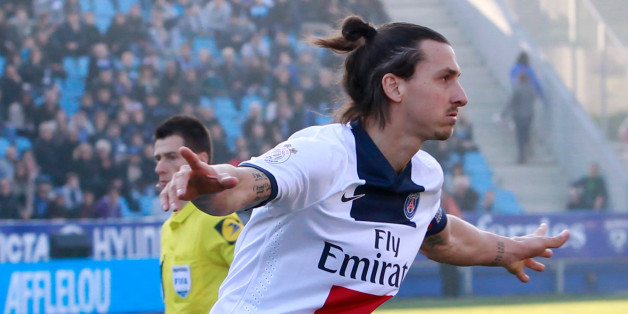 PASCAL POCHARD CASABIANCA via Getty Images
Zlatan Ibrahimović's cult is growing as he becomes as prolific on Twitter as he is in Ligue 1, and that continued on Monday with his #DaretoZlatan campaign.
It was well-timed. Ibrahimović scored just the one at the weekend for Paris Saint-Germain against Bastia, yet it was his outrageous kung-fu assist for Ezequiel Lavezzi, to complement his backheeled goal against Bastia in the reverse fixture, that grabbed the headlines. Ibrahimović has now scored 33 goals in 33 games for PSG this season.
Fresh from another PSG victory, he invited tweeters to seek his advice on how to improve their game. The responses were amusing...
Am I mad @bailofwz? Would a sane man try a 32 yard overhead kick in an international match? #DareToZlatan

— Zlatan Ibrahimović (@Ibra_official) March 10, 2014
Hi @Greg_douglass, failure is the first step to success. The second step is growing a ponytail. #DaretoZlatan

— Zlatan Ibrahimović (@Ibra_official) March 10, 2014
Dear @ArmouredGuy, a wise man once said, surprising your opponent is the key to surprising them. That wise man was Zlatan. #DareToZlatan

— Zlatan Ibrahimović (@Ibra_official) March 10, 2014
There are 2 things Zlatan cannot do @at_sunshine. One is be predictable. The other is a step-under. But Zlatan is practising. #DareToZlatan

— Zlatan Ibrahimović (@Ibra_official) March 10, 2014
Dear @EdgleyLFC. Daring to Zlatan is easy. Start by trying moves that can't be done. Keep trying until you are Zlatan. #DareToZlatan

— Zlatan Ibrahimović (@Ibra_official) March 10, 2014