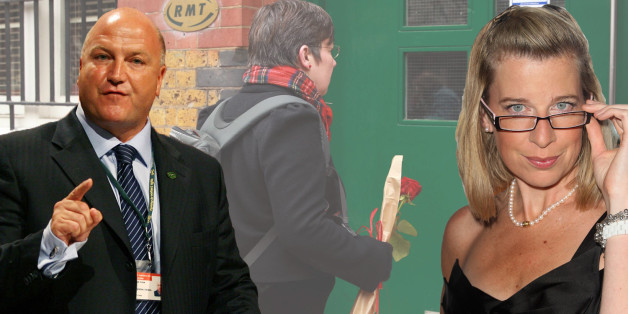 PA/Getty
Rent-a-gob Katie Hopkins has sunk to a new low, this time laying into Bob Crow just hours after his death was announced.
The controversial Rail, Maritime and Transport Union leader is believed to have died of a massive heart attack aged just 52, in the early hours of Tuesday.
However the former Apprentice star and tabloid columnist wasted little time in voicing her opinion, tweeting "There was a man called Bob Crow. *limerick to follow, after appropriate amount of time for national outpouring of union grief*".
SEE ALSO:
Hopkins also referred to Bob Crow's famous quote from last year, in which he said former prime minister Margaret Thatcher could "rot in hell" for what she did to the country, as a reason to shun the union leader from any form of respect.
Bob Crow: 'Thatcher can rot in hell' https://t.co/imIThh5Jlb Respect?! Don't make me laugh.

— Katie Hopkins (@KTHopkins) March 11, 2014
When I die my detractors will dance or not care. I would expect nothing less. He had no respect for Thatcher. I had no respect for him.

— Katie Hopkins (@KTHopkins) March 11, 2014
She then used the news of Mr Crow's death to promote her upcoming TV appearance, suggesting that the London Underground would be on time following the union leader's death:
Super excited about hopping on the underground to the Big Debt Debate on Monday. All lines running smoothly I don't doubt.

— Katie Hopkins (@KTHopkins) March 11, 2014
Stay classy Katie...
However Katie Hopkins' comments prompted both outrage and support on Twitter, with reaction to her tweets ranging from calling her a "vile human being" to being "well within her rights".
Katie Hopkins is a nasty piece of work, isn't she?

— Faye Cruddace (@fayecruddace) March 11, 2014
Hopkins is the first high-profile figure to publicly lambast the late union leader, with Crow's most famous opponents giving heartfelt tributes.
Boris Johnson, who clashed many times with the union leader, said: "Whatever our political differences, and there were many, this is tragic news.
"I'm shocked. Bob Crow was a fighter and a man of character. Bob fought tirelessly for his beliefs and for his members."
"It's a sad day."
katie hopkins is such a vile human being

— Leah Everton (@LeahEverton_) March 11, 2014
Katie Hopkins is well within her rights to blast bob crow if she sees fit. We all don't have to be so sycophantic when someone dies

— chris latimer #632 (@justbeinganicon) March 11, 2014