"I'm terrified for myself to be honest, hugely daunted, so I can't even begin to imagine what it's going to be like for them," admits Prince Harry in a two-part documentary charting his trek to the South Pole.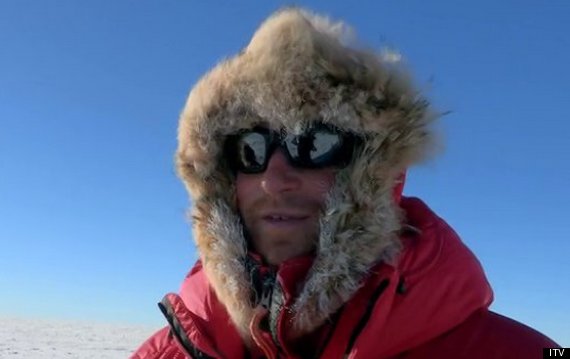 Prince Harry stays warm for his trek to the South Pole
Harry was speaking ahead of his journey, accompanying a group of wounded service men and women, and he added:
"To take a double amputee to the South Pole it's really going to be really quite a moving moment when we get there. For me, it's bigger than just these guys, we are trying to raise money but also raise awareness for the fact that the injuries they have sustained they are going to carry for the rest of their lives."
The prince, who has served as a soldier in Afghanistan, was one of the group making a 200km trek, and the two-parter provides an at times raw and emotional insight into the team members' traumatic experiences and their determination to overcome life-changing injuries and complete the challenge.
Other honorary members of the group were actors Dominic West ('The Wire') and Alexander Skarsgård ('True Blood').
The British team, led by Harry, were originally taking part in a race against teams from the US and the Commonwealth, but this was abandoned in view of the Antarctic conditions taking their toll on participants, and the three teams joined together to finish the challenge.
Harry's South Pole Heroes starts on Sunday 16 March at 8pm on ITV
LIKE US ON FACEBOOK | FOLLOW US ON TWITTER