The majority of Syrian refugees believe they will never be able to return to their country, according to new research.
Refugees surveyed by Oxfam stressed their desperation to return home but 65% fear they will never see their homes again, on the third anniversary of the bitter and bloody conflict.
Those surveyed, more than 1,000 living in temporary shelters, were in the crowded refugee camps of Jordan, in Zarqa, Balqa, Jordan Valley and Jawa.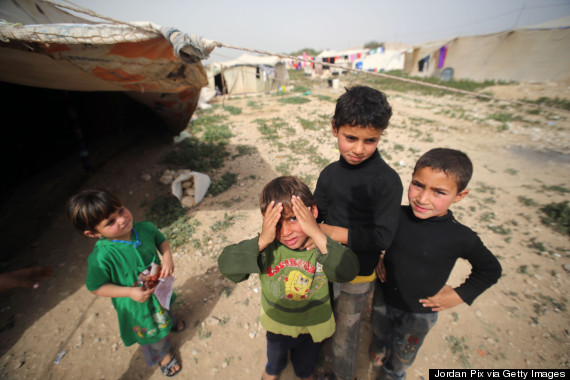 Syrian refugee children play around their tents in the town of Al Karama, west Jordan
Of those who said they believed they could one day return, 78% said they could not picture a time when this would be possible.
Abu Mustaffa, a father-of-seven, from Hamra governorate, in Syria, who now lives in a tented settlement, in the Jordan Valley, is quoted in the report as saying he feels the chance for peace is now "hopeless".
"No one can go back to our village, it's too dangerous and life is too difficult…we want people across the world to help us to get back to our country," he said.
"At the moment, I am not hopeful that there will be any peace, I feel hopeless. We all hope things will get better, but nothing happens. I want to go back to normal life where everything is fine and people have stopped killing each other.
"We hope to go back so that our children will return to their schools to learn, to farm their land and be productive in their own country."
After months of stalemate, in a conflict which has claimed at least 100,000 lives, reports this week suggest a new savage offensive could soon be under way by rebel forces in the south of the country against the regime of Bashar al-Assad.
The Free Syrian Army, deeply divided and losing ground to jihadist forces, has spoken of its intentions to turn around its fortunes in the south of Syria with a "spring offensive", on the back of an estimated of £18.9m of new weapons funding from the US, the Guardian reported on Tuesday. Obama will travel to Riyadh later in March for talks that will focus on Syria, and on Iran.
Now, with the conflict entering its fourth year, the aid agency says the international community must urgently help end the crisis so refugees and displaced people inside Syria can return home and start to rebuild their lives.
Andy Baker, who heads up Oxfam's response to the Syria crisis, said: "The survey shows that for many refugees hope of returning to Syria sometime soon is dwindling.
They are living in limbo, battling each day to survive, with little idea of what the future holds.
"That must change. Syrians deserve better than this.
"Renewed efforts must urgently be made by the international community to help stop the bloodshed and bring an end to this devastating conflict which has destroyed so many lives.
"It's time for the next round of the Geneva peace talks to start – and for real and lasting progress to be made around the negotiating table this time."
Fears are growing that the unprecedented levels of aid needed to cope with both the war within Syria and with the refugee crisis in host nations, will soon begin to run dry. The UN has appealed for a record-breaking $6.5bn, which Oxfam says still "under-estimates the true scale of the need".
A total of $2.3bn was pledged at the Kuwait Donor Conference in January but so far, just 12% of the appeal has been delivered by donor countries since the launch in December.
Aid agencies will soon begin to lack the resources they need to deal with a desperate lack of food, clean water, medical care and basic tools for the education of the many hundreds of thousands of children in the refugee camps, children which some NGOs have warned may never go back to school.
"Plans for a long-term recovery need to be drawn up as even if the conflict were to end tomorrow, Syrians would need assistance for years to come," Oxfam's Baker continued.
"We urge donor countries to give generously to the UN appeals. In particular, significant support is needed for neighbouring countries. Basic services in countries such as Jordan and Lebanon are stretched to the limit with schools and health clinics responding to meet the dramatically increased demand."