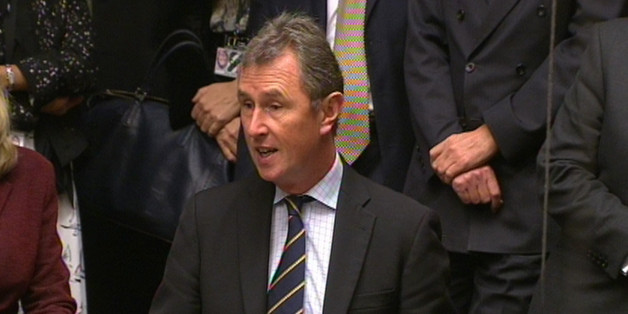 PA/PA Wire
A former Tory councillor saw a man "thrashing around very violently" while the MP Nigel Evans had his hand down his trousers in a late-night incident in a bar at the Conservative Party conference, a court heard.
The openly gay MP, accused of a series of sex offences, had to be pulled off and pushed away from the younger man during the "fracas", jurors were told.
Mark Formosa said he was drinking with a friend at 2am in the Number 10 bar at the Imperial Hotel in Blackpool during the 2003 Tory conference when the alleged incident happened, Preston Crown Court heard.
Out of the corner of his eye, Mr Formosa told the jury he saw the MP getting "closer and closer and closer" while talking to the man before indecently assaulting him.
Mr Formosa told the jury: "A fracas broke out.
"I saw the younger man thrashing around very violently from side to side trying to wrench himself free from Mr Evans' grip. Mr Evans had his hand down the front of his trousers and was maintaining his grip and it seemed obvious that the younger man was not able to get him off him.
"I intervened along with several others in order to assist the younger man to get Mr Evans off him. We pulled him off and pushed him back towards the bar."
The MP was advised to get to bed - as he was speaking on the platform at the conference the next day, while his alleged victim spoke to another MP, Conor Burns, about what had just happened, the jury heard.
Evans, 56, is on trial over claims he used his "powerful" political influence to take sexual advantage of seven young men.
He denies one rape, two indecent assaults and six sexual assaults said to have taken place on various dates between 2002 and last year.
It is alleged he had the "ability to make or break" careers and assaulted the alleged victims in his home, House of Commons bars and his office in the Palace of Westminster.
But Peter Wright QC, defending Evans, suggested that Mr Formosa was not telling the truth in his account of the incident, that it was a "fabrication", and questioned why he had come forward to police after Evans was arrested.
"Or is it simply that you did not see any such incident at all, did you?" Mr Wright said.
"Er, I did, yes. I can only tell you what I saw," Mr Formosa said.
"Or is it you have just jumped on the bandwagon?" Mr Wright added.
"Well, that just isn't true," the witness replied.
"And that in giving the account you did to the police you simply at that stage were making it up?"
"No, no," the witness said.
Mr Wright continued: "Or is it you were simply motivated by enjoying a moment in the spotlight, Mr Formosa?"
"Well, that's not true," the witness replied.