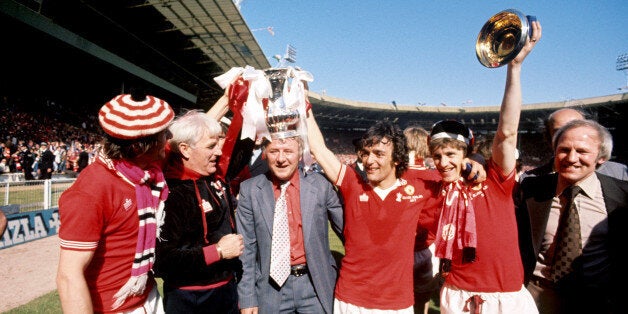 "Have you ever won a treble? Have you fuck," tweeted the RedIssue fanzine after Wigan Athletic defeated Manchester City last week. Three days later, Barcelona ejected Manuel Pellegrini's side from the Champions League, which made that tiresome quadruple talk look even more risible. Three years ago, Arsenal were on for a quadruple. In 2009, it was conceivable Manchester United could claim a quintuple.
In the 21st century, Barcelona, Internazionale and Bayern Munich have joined the elite treble list. Celtic, Ajax, PSV Eindhoven preceded United's accomplishment in the last year of the 20th century. The treble remains an elusive feat in English football and United's 1999 achievement remains remarkable.
For their supporters, its aura glows brighter every year and they can be forgiven for cherishing it more intensely as they experience a season of woes not known since before Sir Alex Ferguson collected his first cup.
Liverpool are back at Old Trafford this weekend and above their rivals in the table for the first time since September 1998 in the very early days of United's treble season.
For older supporters, United's triumph at Camp Nou holds a special significance after United's involvement with a treble tilt 22 years earlier in 1977. Only it was Liverpool who were targeting football's ultimate achievement.
Bob Paisley's side had retained their championship by just a point ahead of Tony Book's entertaining Manchester City team and four days after their Wembley final date with United they would face Borussia Mönchengladbach in their first European Cup final in Rome. Immortality beckoned for Liverpool in the Eternal City.
United had finished the 1976-77 season sixth - 10 points adrift of Liverpool and without a trophy since the 1968 European Cup. The downfall following Sir Matt Busby's retirement in 1969 had been spectacular. His direct replacement, Wilf McGuinness, was sacked after 18 months before Busby, who retained his manager's office, returned briefly. Frank O'Farrell lasted as long as McGuinness and was replaced by Tommy Docherty in 1972. O'Farrell was godfather to one of Docherty's sons. There was no room for sentiment.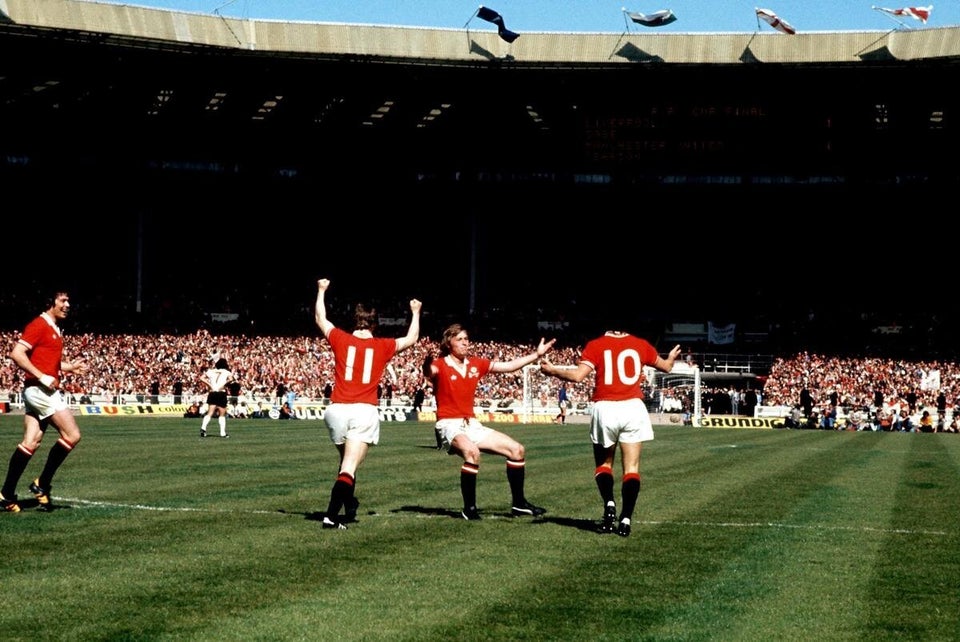 1977 FA Cup final
In his first full season and six years after they were crowned European champions, Docherty and United were relegated. Denis had done it.
The phoenix rose spectacularly, though, as United steamrollered their way back to the top flight at the first time of asking. The football they played under Docherty was the most vibrant in the 17-year post-Busby-pre-Ferguson era, and United reached their first FA Cup final in 13 years against Southampton. A combination of a myopic linesman, Bobby Stokes and Alex Stepney's flimsiness recorded an upset, though.
Docherty was as bullish as the day United were relegated following the 1-0 defeat and vowed to bring United back to Wembley and win the trophy the following year, although his confidence was a convincing facade.
"I would have bet my mortgage on us to beat Southampton, and I'd have bet tuppence on us to beat Liverpool," Docherty said.
"Que sera sera was massive back then," remembers United supporter Andrew Ramplin, who travelled to Wembley for his first Cup final with his brother as a 13-year-old. "Skip to my Lou Macari, the Jimmy Greenhoff chant and Gordon Hill King of all Cockneys were the others that got the most airtime.
"It was a really big deal for United. Liverpool had played at Wembley twice in '74 in the Cup final against Newcastle and Charity Shield win over Leeds, as well as the '76 Charity Shield against Southampton. They had that jauntiness in their stride you saw in United's following in the 90s."
Scuppering Liverpool's treble hopes was not an additional motivation for Docherty, though.
"We wanted so much to win it against Southampton, and we wanted to win it even more against Liverpool."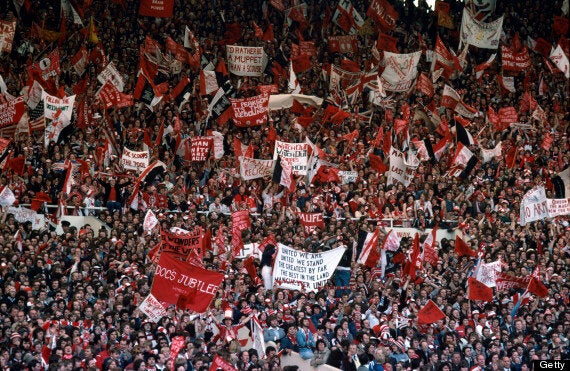 The Stretford End arrives at Wembley, 1977
"The banners are out, and you might think it's the Stretford End," remarked ITV commentator Brian Moore.
"The supporters were fantastic to me from the day I arrived there to the day that I left," Docherty beams, speaking to The Huffington Post UK from his Glossop home.
"You can see from the pictures that the colour on the terraces in that final remains unparalleled," Ramplin adds. "You had great, proper support from both sides and, because it was a Jubilee year, a lot of the banners had Union Jacks emblazoned on them in support of the Queen, which feels odd now."
The final's three goals came within a four-minute period. Stuart Pearson opened the scoring six minutes after the interval before Jimmy Case capitalised on the creaky Stepney to swing in a neat equaliser. Jimmy Greenhoff then deflected Lou Macari's shot past Ray Clemence four minutes after Pearson's for one of the scruffiest Cup final winners, not that United cared.
"Memories," Docherty sings joyously when the final is mentioned. Liverpool were denied the treble, but had the support of the nation. Surreally, United fans chanted "Liverpool, Liverpool, Liverpool" as Paisley's dejected squad did a lap of honour. They beat Gladbach 3-1 in Italy.
Before the '76 final, Docherty told BBC Sportsnight: "I can only see great days ahead for Manchester United at the moment... The only people who can spoil it are Tommy Docherty."
Forty-five days after lifting the cup, Docherty was sacked over an affair with United physio Laurie Brown's wife, Mary, and any hopes of a title assault were lost as the dreary Dave Sexton was appointed.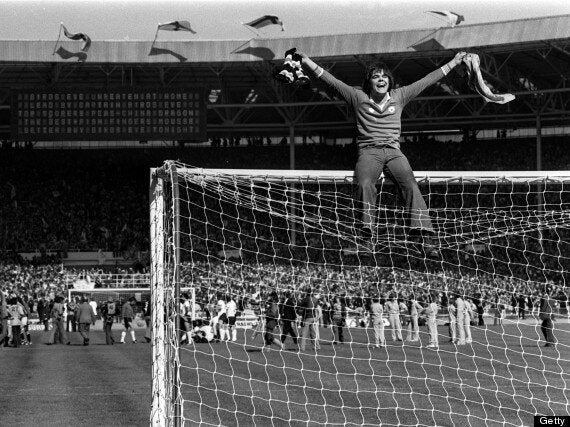 Where are they now? One United fan savours a first trophy in nine years
"I was a bit upset about that because I'd seen a lot going on at the club which put my situation into the shade," Docherty reflects.
"I felt that we had done a great job because we took over the remnants of the '68 European Cup-winning side," he adds. "Most of them, with the greatest respect, were past their sell-by-date. So it was a rebuilding job to do and, of course, when you move famous faces on it doesn't go down very well with some of the supporters.
"But we had a great team with [Steve] Coppell, [Gordon] Hill, Pearson and Greenhoff up front. Fantastic forward line. And I felt we - not me - we, Tommy Cavanagh and I, God rest his soul, Gordon Clayton, I felt we had done a great job to move the '68 European Cup-winning team on and bring in our own young players with the help of Jimmy Murphy [Busby's former assistant], who didn't get half the credit that he should have done.
"I tried to sign Peter Shilton, but Sir Matt Busby said 'We're not paying anyone £200 a week.' Incredible. So I didn't expect a lot of money because they weren't big spenders."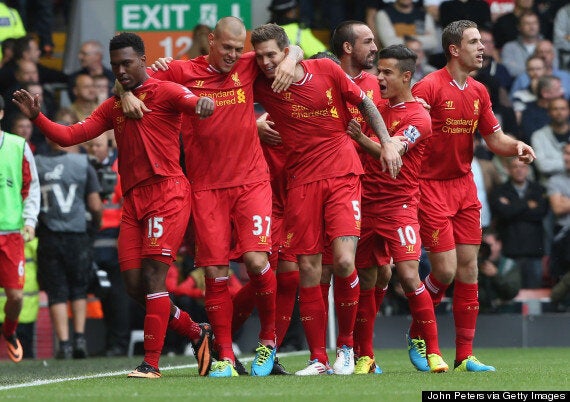 Daniel Sturridge scored Liverpool's League winner against United in September
Liverpool will arrive in M16 on Sunday as the superior side and it is possible, having finished 28 points behind United last season, they will record a 40+ point swing come the final day of the campaign. The chasm is as unfair a reflection on this United side as it is a damning reflection of Moyes' stewardship.
Although Chelsea could be 10 points clear of Liverpool at kick-off, Rodgers' team remain title challengers. It is the perfect incentive for United to knock them off their perch before they have even settled on it again.
Popular in the Community