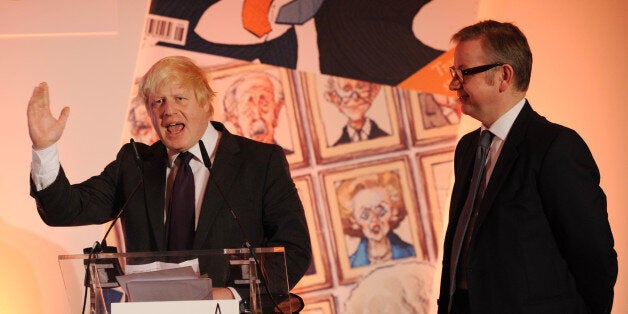 Here are the five things you need to know on Thursday 13 March 2014...
1) GOVE SINKS HIS TEETH INTO BORIS
Two of the Tories' biggest beasts continue their behind-the-scenes 'war'. From the Times front page:
"Tory infighting broke out yesterday as allies of Boris Johnson were accused of undermining Michael Gove in an attempt to position the Mayor of London as a future leader. Mr Johnson's camp reacted angrily to allegations that they were conducting a whispering campaign against the Education Secretary. One ally accused Mr Gove and George Osborne, the Chancellor, of jumping at shadows. Tensions surfaced 12 days ago when The Times disclosed that Mr Osborne was said to have personally urged Mr Johnson to stand as an MP at the next election. That was seen by some of Mr Johnson's friends as a crude attempt to bind his fate to that of David Cameron and so limit his chances of succeeding him as Tory leader... It was reported last night that the Prime Minister had given Mr Gove free rein to attack Mr Johnson. The Spectator, a magazine once edited by Mr Johnson, quoted a minister as saying: 'Michael is licensed to sink his teeth into Boris's ankles in a way that neither the boss nor George can.'"
David Miliband (remember him?) has come out in support of brother Ed's new stance on an EU referendum - the Mirror reports:
"The former Foreign Secretary praised Labour leader Ed for his 'sensible' compromise of an in-or-out poll only if powers are transferred from London to Brussels. His remarkable show of support was a rare intervention in UK politics since his bitter party leadership defeat by Ed in 2010. David stepped down as a Labour MP last year. He told the Daily Mirror in an exclusive interview: 'Ed has put the national interest first – and the national interest is in a stronger economic recovery. It's evident the question mark over Britain's European Union membership is a big problem. But in the US, the idea Britain would leave the EU is dangerous. They want Britain in Europe and with a strong voice in Europe.' David, now president of the New York-based International Rescue Committee aid agency, added on a visit to London: 'I think a reform process is under way.'"
Miliband the Younger also gets the backing of the FT, which says in its lead editorial: "[W]hile there may be low political cunning in his decision, it has much to recommend it. Coming to a view on Europe may not have been the toughest challenge he has faced as Labour leader, even if his party has a modest eurosceptic wing. But his stance is far more sensible than the one set out by Mr Cameron. The prime minister's decision to commit to an arbitrary date for a referendum was an error of judgment."
3) DAVE BACKS RELIGIOUS SLAUGHTER
David Cameron yesterday gave a remarkably pro-Israeli speech in Israel's parliament, the Knesset. He not only refused to utter the words "occupation" or "occupied" but referred to a halt in illegal settlement-building in the West Bank as a "concession" on Israel's part. He also, rather controversially from a domestic political point of view, gave his unqualified backing to kosher - and, by extension, halal - meat. The Sun reports:
"The PM risked a showdown with animal rights campaigners by SUPPORTING the ritual bleeding to death of sheep and cattle for Jewish kosher food. He told Israeli politicians the practice of Shechita would never be banned 'on my watch' — despite Britain's top vet calling for an end to the slaughter."
The Daily Mail adds: "[T]o applause yesterday, Mr Cameron praised the Jewish community's integration into British society and said he would never allow a ban on the religious slaughter known as Shechita. 'Integration doesn't mean that you have to give up things that you hold very dear in your religion,' he added. 'On my watch Shechita is safe in the UK.'"
Cameron today will meet Palestinian President Mahmoud Abbas and Tony Blair, as part of US/UK efforts to rekindle the peace process. His one-sided speech yesterday won't have helped, however...
BECAUSE YOU'VE READ THIS FAR...
Watch the Daily Show's Jon Stewart scrutinising the way in which the US media scrutinises Vladimir Putin's Russia. As usual, he's very funny...
4) PAYDAY LENDERS ALL AROUND US
"The UK's high streets now have at least one short-term loan shop for every seven banks and building societies, according to research prepared for the Guardian, which shows how high-cost moneylenders have become a common sight in many neighbourhoods. Research by the Bureau of Investigative Journalism reveals that Glasgow is the payday loan capital of the UK, with 40 stores operated by the biggest quick-cash shops. On a per capita basis, the London borough of Lewisham has the most stores, with nearly eight high street lending shops for every 100,000 residents."
The paper quotes Paul Blomfield, the MP for Sheffield who has campaigned against payday lending, as saying: "These shocking figures show the scale of the payday lending epidemic on our high streets. Their corrosive impact is then often exacerbated by the companies clustering their shops in areas of higher deprivation."
5) 'DID UKIP WITH YOUR AIDE NIGE?'
That's the splash headline on the front of the Sun, which reports:
"Stunned Ukip boss Nigel Farage declined to answer yesterday after an MEP accused him at the European Parliament of having a fling with an aide. Sex-change MEP Nikki Sinclaire — booted out of Ukip in 2010 — spoke about an alleged relationship between the party leader and assistant Annabelle Fuller. Mr Farage, 49, pays both London-based adviser Ms Fuller and wife Kirsten from the public purse via his secretarial allowance. Ms Sinclaire asked amid dramatic scenes in Strasbourg: 'With unemployment still a problem across Europe and indeed across the UK, does Mr Farage think it is a fair use of taxpayers' money, namely his secretarial allowance, not only to employ his wife Kirsten, but his former mistress Annabelle Fuller?' Mr Farage replied: 'I don't want to answer that at all'... Speaking to The Sun last night, Mr Farage strenuously denied having an affair with Ms Fuller."
The paper's editorial points out that this is "the sort of scrutiny Mr Farage can increasingly expect now his party looks a credible Euro election force".
From the Sun/YouGov poll:
That would give Labour a majority of 18.
David Aaronovitch, writing in the Times, says: "Labour doesn't need a referendum life raft."
Peter Oborne, writing in the Telegraph, says: "Labour's unforced error on the EU is a priceless gift for its opponents."
Suzanne Moore, writing in the Guardian, says: "Bob Crow knew exactly who the enemy was – the boss class."
Got something you want to share? Please send any stories/tips/quotes/pix/plugs/gossip to Mehdi Hasan (mehdi.hasan@huffingtonpost.com) or Ned Simons (ned.simons@huffingtonpost.com). You can also follow us on Twitter: @mehdirhasan, @nedsimons and @huffpostukpol