New Found Glory member Steve Klein is scheduled to appear in court later this month under charges of child pornography and lewd conduct with a minor.
According to court records, the founding member of the Florida pop punk band was originally arraigned on December 12, 2013.
Last year, on the same date, New Found Glory announced on Facebook that they were parting ways with the guitarist.
Klein reportedly pled not guilty to multiple felony charges that included two counts of lewd conduct with a minor under the age of 14, three counts of lewd conduct with a minor 14 or 15, one count of intent to commit lewd acts with a minor and one count of possession of child pornography.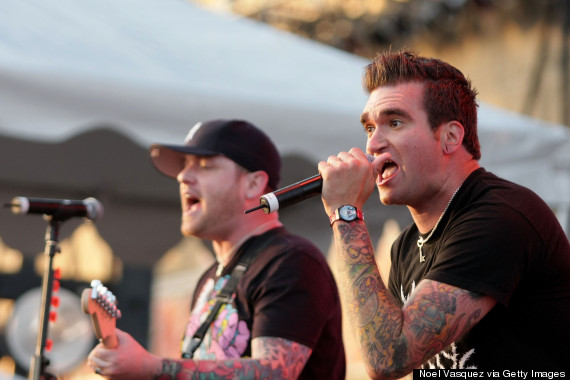 Jordan Pundik (R) and Steve Klein (L) of New Found Glory
Explaining why the band decided to split, the remaining members cited "personal differences."
"We've had our differences with Steve over the years that have led us to this decision," they wrote.
"We love Steve however personal differences have guided this decision and we no longer feel we can work with him."
The band gave an updated statement on their Facebook page Wednesday:
Klein's attorney, Debra White, spoke of how he is "devastated" with the accusations but added he is not accused of having physical contact with any children. White said the accusations surround online video conversations he had with females he believed to be over the age of 18.
Klein remains free until scheduled court appearances on March 20 and April 10. If found guilty of all charges, he faces a maximum of 27 years in jail.