Intense talks aimed at defusing the Ukraine crisis have ended with Russian foreign minister Sergey Lavrov insisting the result of a controversial referendum in Crimea should be "respected".
Lavrov held talks with United Sates secretary of state John Kerry in London today, but the pair failed to achieve common ground, as the awkward body language between the two men appeared to show.
The Crimea referendum has been dismissed as illegitimate and illegal by the US and the European Union. The West has pointed out that there are thousands of Russian troops on the streets and there has been no significant campaign period.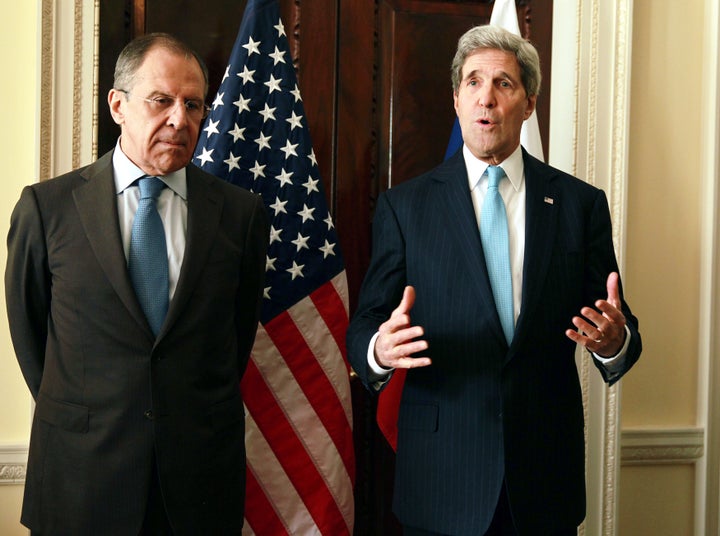 John Kerry and his Russian counterpart meet in London on Friday
In his press conference at the Russian embassy in London, Lavrov said he raised the Ukraine authorities' failure to protect citizens from acts of violence by "radicals". He said discussions with Kerry, which overran by hours, had been "useful" but there were "still disagreements".
Lavrov rejected Western calls for the creation of an international contact group on the Ukraine to resolve the crisis.
"We think that this a wrong approach. The crisis was not caused by Russia," he said. "We do not need an international structure to look into Ukrainian-Russian relationship. The relationships have never been ceased.
"What happened in Kiev when the legally elected president was overthrown, we had some complications but Russian President Putin encourages the Russian government to work side by side with the Ukrainian minister.
"The framework of foreign ministers contacts were never ceased, so any questions there are could be raised in direct dialogue."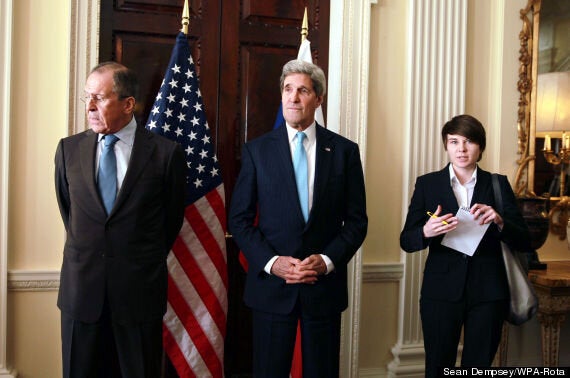 The two men were unable to come to a deal on the crisis in Ukraine
During their talks, Kerry and Lavrov were pictured walking in the gardens of the American ambassador's residence in Regent's Park as they attempted to find a way through the stand-off.
Lavrov said Kerry "did not voice any threats against Russia" but warned the West that sanctions would have consequences.
"We live in an information space, we are hearing what is being discussed in Washington or in Europe, and let me assure you that our partners understand that sanctions are a counter-productive instrument," he said.
"If the decision is made, it will be their decision. It certainly won't facilitate, it won't be helpful in mutual interests of business and developing our cooperation, that's a fact."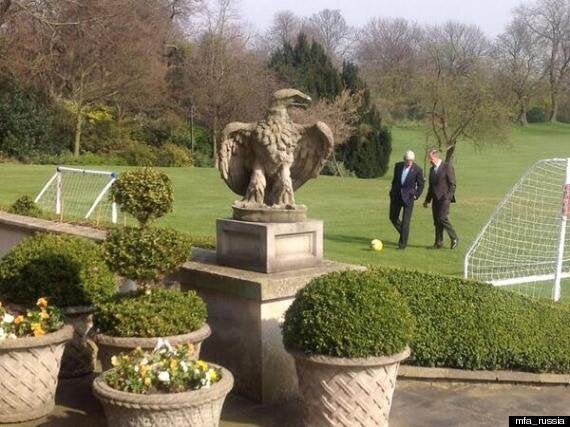 Kerry and Lavrov go for a diplomatic walk in Regents Park
After holding meetings with both men earlier this morning, foreign secretary William Hague said he believed they were "seriously committed" to trying to make progress - but warned that it would be "formidably difficult".
He also reiterated that the EU and US would be imposing sanctions as early as next week if tensions are not eased.
"This is a referendum which doesn't meet any international norm or standards, it's taking place without a campaign, without an electoral roll, without the political leaders of the country being able to visit, in the presence of many thousands of troops from a foreign country," Mr Hague said.
"Holding that this Sunday has, in effect, created a diplomatic deadline for these talks before other measures need to be taken."