Tributes have been paid to Northern Irish Conservative peer Lord Ballyedmond, who was one of four men killed when a helicopter crashed in thick fog in Norfolk last night.
Lord Ballyedmond, one of the richest men in Northern Ireland, was chairman of Norbrook, the largest privately owned pharmaceutical company in the world.
Known as Edward Haughey until he was made a life peer in 2004, he owned Gillingham Hall, a stately home near the crash site, according to the Register of Lords' Interests.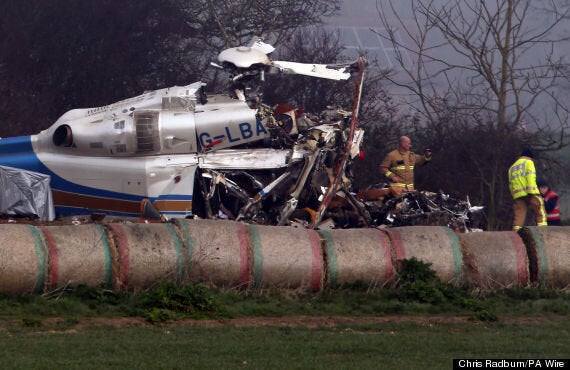 The wreckage of a helicopter alongside the A146 Police at a cordon on the A146 after four people have died when a helicopter came down
The AgustaWestland AW139 helicopter came down in thick fog in a field in Gillingham, near Beccles, at 7.30pm yesterday.
Police said only a limited investigation of the crash site had been possible in the dark and foggy conditions last night and a more detailed forensic examination will take place today.
Ulster Unionist peer Lord Reg Empey, who has known the Haughey family for 25 years, said: "Lord Ballyedmond was one of the most successful entrepreneurs in Northern Ireland and indeed these islands. He brought high-quality employment opportunities to this country during its darkest days.
"This tragic accident has cut short the life of a man who had still much to give. The family circle will be numbed by the tragedy."
All four people on board the helicopter were pronounced dead at the scene after it crashed in a field containing a wooded area, Norfolk Police said.
The victims have not yet been formally identified while officers contact their next of kin.
It was reported that the helicopter was flying to Northern Ireland, though police refused to comment on where it had taken off from or what its destination was.
Lord Ballyedmond served in the upper houses of Britain and Ireland, in the Seanad in Dublin.
Ulster Unionist Stormont assembly member Danny Kennedy said he was stunned.
He added: "Lord Ballyedmond was a determined businessman who brought much-needed employment to my own constituency of Newry and Armagh. He built a world class business from scratch and at the same time managed to base it locally.
"He will be sadly missed throughout the business community in Northern Ireland and wider afield. I offer my deepest sympathies to Lady Mary and the children."
South Down SDLP MP Margaret Ritchie said he was unique.
"He was a major employer in the Co Down area and invested a lot of money.
"He got up and at it and he possessed those attributes required to make you a successful businessman but he also was a major employer and a lot of families had connections with him through that."
Emergency services were called by members of the public who heard a loud crash, though Inspector Louis Provart would not say whether there was an explosion and refused to speculate on the cause of the crash.
The Air Accidents Investigation Branch has been informed and a team will be sent to investigate the crash, a spokesman said.
Roland Bronk, owner of The Swan House inn and restaurant in Beccles, said it was "very foggy" in the area. Mr Bronk said he heard customers talk about "a lot of police activity and ambulances".
Taxi driver Mark Murray, 22, from Beccles, said: "There is a large stately home nearby and you often see helicopters coming and going from there.
"When they have a game shoot the guests often all arrive in separate helicopters. We don't know if that is linked, but that's the only helicopter activity we see in this area."
Met Office forecaster Helen Roberts confirmed that large parts of East Anglia had been hit by mist last night.
She said: "There has certainly been some fog around south Norfolk, and the Norwich area has been in fog.
"There has been widespread mist around East Anglia and low visibility quite widely across East Anglia. Mist means low visibility, and it has been misty quite widely throughout the evening."
Norfolk Police said the crash site will remain cordoned off today and roads in the area have been closed.
The scene is 45 miles from the spot where four crew members died when a US military helicopter crashed on a training mission in a nature reserve in Cley-next-the-Sea, Norfolk.
In January, a Pave Hawk from RAF Lakenheath was taking part in a low-flying training exercise when it came down.
Residents described hearing a "'heavy and very unusual'' noise from the helicopter seconds before the crash, in which all four US crew members were killed.