Miley Cyrus's ever-present tongue has once again caused a stir, after a prop from her 'Bangerz' tour injured a construction worker.
The 'Adore You' singer is currently on her 'Bangerz' tour, which sees her make her stage entrance on a giant slide designed to resemble her infamous tongue.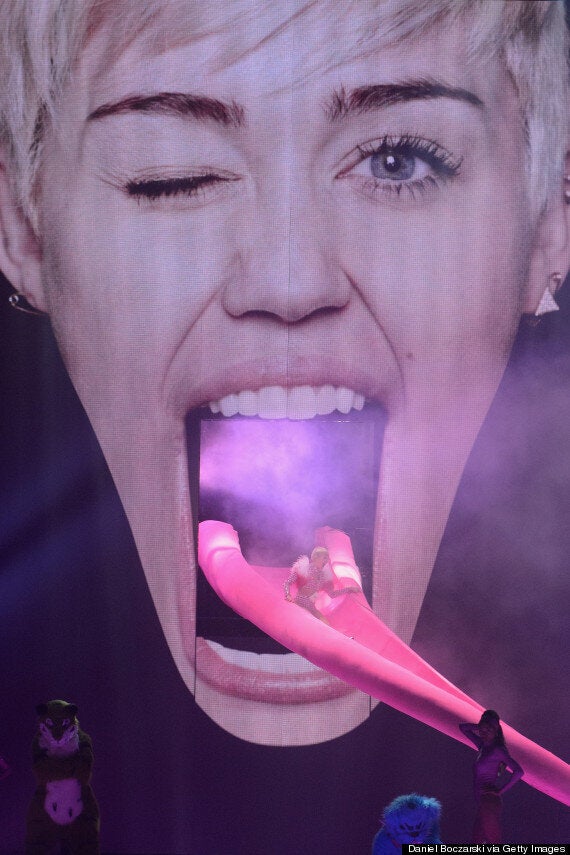 Miley Cyrus making her dramatic stage entrance on the 'Bangerz' tour
It's now been reported that one of the construction workers who helped make the slide is to file a lawsuit after being injured while building it.
Charles Nicholas Sarris plans to sue ShowFx Inc. - the equipment supply company who helped build the novelty tongue - claiming he was not informed of the dangers that would be involved in its construction.
He says the tools provided to him were faulty, causing him to fall onsite and become injured.
Meanwhile, Miley herself recently had a different kind of malfunction during the 'Bangerz' tour, after she failed to get dressed in time for a performance and was forced to go onstage in her underwear.
She also became embroiled in a Twitter spat with fellow popstar Katy Perry.