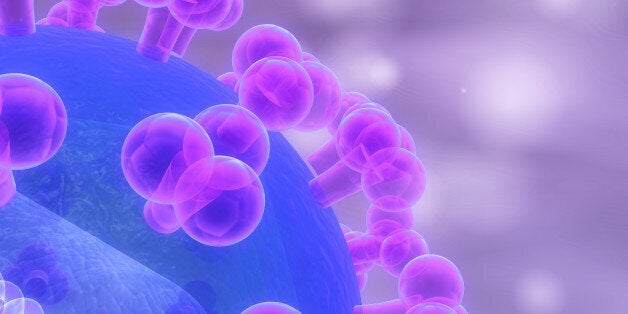 A 46-year-old woman is believed to have contracted HIV in a rare case of female-to-female infection.
Her partner had been diagnosed previously with HIV and had stopped receiving anti-retroviral treatment in 2010.
The couple reported routinely having unprotected oral and vaginal contact and using insertive sex toys that were shared between them but not shared with any other persons.
The report states: "They described their sexual contact as at time rough to the point of inducing bleeding in either woman. They also reported having unprotected sexual contact during the menses of either partner."
The team are fairly certain the woman contracted the virus from her partner as the viruses are a 98 per cent match making them "virtually identical."
They add she had not reported any other HIV risk behaviour such as tattoos, acupuncture, transfusions or transplants.
It adds: "Although rare, HIV transmission between women who have sex with women can occur."
"Discordant couples (i.e. those where just one person is infected with HIV) of any sex should know their HIV status and receive education and counselling services, especially instruction in safer sex practices," the CDC said.
"However, in any sexual pairing, the risk of transmission increases when one of the couple has HIV but is not on treatment. In this case, when the HIV-positive partner stopped taking anti-HIV drugs in 2010, it is likely the amount of virus in her blood increased dramatically. Modern drug treatments don't just keep people with HIV fit and well; they can also greatly reduce the risk of infection."
The HIV virus is most commonly caught by having sex without a condom, but it can be passed on by sharing infected needles and other injecting equipment.
HIV can also be passed from mother to child during pregnancy, birth and breastfeeding. AIDS is the final stage of the infection, though with early diagnosis and effective treatment, most people with HIV will not go on to develop AIDS.
Popular in the Community