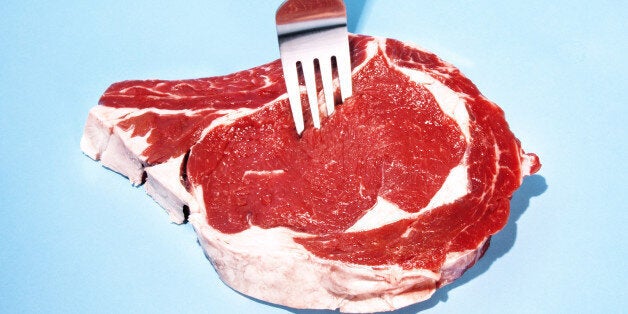 Valentine's Day: you thought it was about celebrating the love of two people, but according to the brains (and we use that word lightly) behind Steak and Blow Job Day, it's actually about men 'working very hard' to please the women in their life.
Dubbed 'Man's Valentine's Day', they reveal that men actually feel a little left out.
The website states: "(Men) are just too proud or too embarrassed to admit it. Sure seeing that smile on their face is priceless, but that smile is the result of weeks of blood, sweat and consideration. Which is why this very holiday was created.
"March 14th is henceforth "Steak and Blowjob Day." Simple, effective and self explanatory; this holiday has been created so that the ladies can show their man how much they truly care for him. No cards, no flowers, no special nights on the town; the name explains it all: just a steak and a BJ. That's it."
Apart from the fact that it reduces men to grunting neanderthals, we're left asking: what about the male vegetarians? And - no offence chaps - what guy works really hard on Valentine's Day?
As far as a straw poll suggests, most guys either hastily cobble something together at the last minute, send flowers (yawn) or go out for dinner (double yawn).
The good news - judging by Twitter - is that actually, no one is taking it very seriously. Apart from the website - which predictably features pictures of women's bums and steak being eaten suggestively - it all seems like a bit of a joke.
And one seriously misogynistic fella: