Camped out outside the US Ambassador, two women holding the now ubiquitous yellow and blue Ukrainian standard had a message for Russia's foreign minister Sergey Lavrov as his convoy of black and silver cars rolled past. On their placard was the words "Be Human".
Crucial talks between the US secretary of state and his Russian counterpart to "find a way forward" over the crisis in Ukraine are taking place in London.
But there is no optimism in the air. Politicians and officials in Moscow could be hit with asset freezes and travel bans if a referendum goes ahead in Crimea on Sunday over whether to break away from Ukraine in favour of joining the Russian Federation.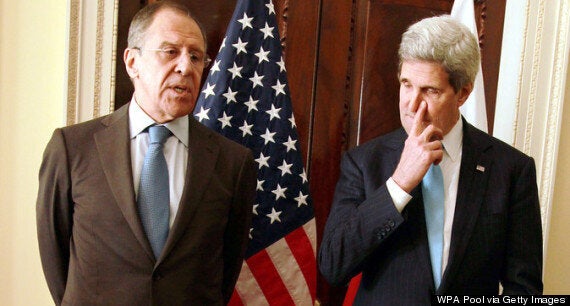 John Kerry with his Russian counterpart Sergey Lavrov
It will be "formidably difficult" for John Kerry and Sergey Lavrov to make progress on defusing the Ukraine crisis today, William Hague said after meetings with both men.
Speaking to reporters as he arrived, Kerry said he hoped the discussions would come up with a solution to "resolve some of the differences between us" as he welcomed Sergey Lavrov to the US Ambassador's residence in Regent's Park.
Lavrov, stepping out of his black car, said it was a "difficult situation" and much time had been lost.
Kerry said: "Obviously we have a lot to talk about and look forward to an opportunity to dig in to the issues and possibilities that we may be able to find about how to move forward together to resolve some of the differences between us.
"We look forward, I know, to a good conversation."
Lavrov said: "I'm also satisfied to have this meeting today. This is a difficult situation we are in. Many events have happened and a lot of time has been lost so now we have to say what can be done."
Outside, the words were of anger not optimism from the two protesters. Oksana Motyka, from Ukraine but resident in London, told the Press Association: "I'm not hoping for much (but) I just cannot sit and watch and do nothing when a bunch of psychopaths are trying to steal my country.
"I'm trying to remind Mr Lavrov that he's a human and I know politicians live in a different world and don't care how many people die as long as they get what they want but maybe he can have a second thought."
Referring to the likelihood of change in the situation, Ms Motyka said: "It's like playing lottery - I need to at least buy a ticket (and try)."
The meeting comes as it emerged that Ukraine had asked for military aid from the US, a request that was declined.
Last night, there was no sign of the 'deescalation' that was the buzzword during the Ukrainian prime minister's address to the UN Security Council, and in subsequent discussions.
And back in Moscow, several dissident and opposition websites were suddenly blocked, including the blog of Russian opposition leader Alexei Navalny, who is currently under house arrest, but has express his anger at Russian actions in Crimea.
Others include the independent news sites grani.ru, kasparov.ru and ej.ru, blocked for their "incitement to illegal activity and participation in mass activities conducted in violation of the established order", according to a statement on Roskomnadzor's website, the Russian media watchdog.