Crimea's election chief has declared 97% of voters in the peninsula's controversial referendum have backed secession from Ukraine and in favour of joining Russia.
Ethnic Ukrainians and Crimean Tatars, who do not support joining Russia, have said in recent days that communities will boycott the poll entirely, after it was called "illegal" by the Ukrainian government.
Britain has already rejected the result, denouncing it as a "mockery of proper democratic practice".
Arriving in Brussels on Sunday for talks with EU foreign ministers, Foreign Secretary William Hague said Russia must now face "economic and political consequences" for its violation of Ukrainian sovereignty and territorial integrity.
Story continues after slideshow...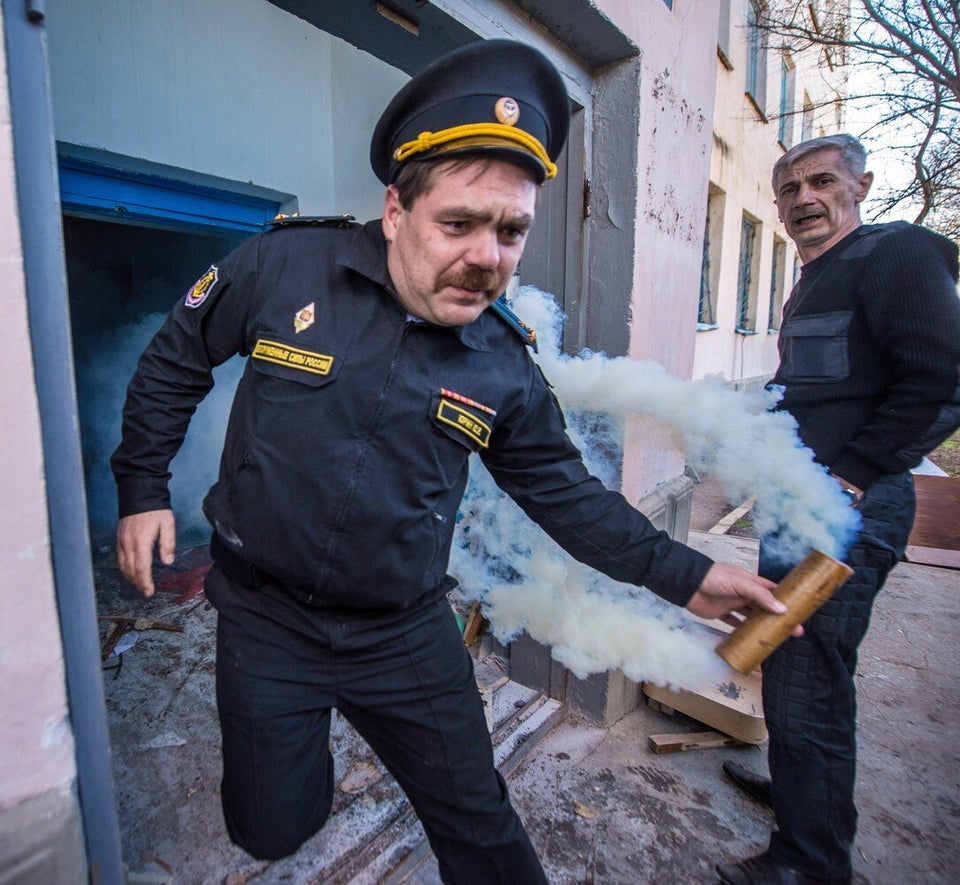 Crimea Referendum
The minister are expected to discuss a range of sanctions - including asset freezes and travel bans aimed at senior Russian officials - after Moscow ignored appeals from the West to abandon the referendum in the peninsula its troops now control.
"Nothing in the way that the referendum has been conducted should convince anyone that it is a legitimate exercise," Hague said.
"The referendum has taken place at ten days' notice, without a proper campaign or public debate, with the political leaders of the country being unable to visit Crimea, and in the presence of many thousands of troops from a foreign country. It is a mockery of proper democratic practice.
"The UK does not recognise the referendum or its outcome, in common with the majority of the international community."
With reports of further disturbances in the city of Donetsk in the largely pro-Russian eastern Ukraine, Hague warned the Kremlin against any further military incursion into Ukrainian territory.
"Any attempt by the Russian Federation to use the referendum as an excuse to annex the Crimea, or to take further action on Ukrainian territory, would be unacceptable," he said.
"I call on Russia to enter into dialogue with Ukraine and with the international community to resolve this crisis through diplomacy and in accordance with international law, not to exacerbate it further through unilateral and provocative actions."
With almost 60% of the population of the Crimea ethnically Russian and many in the minority Ukrainian and Tartar communities boycotting the referendum, the result was widely considered a foregone conclusion in favour of joining Russia.
Even before the polling stations had closed, it was being widely denounced in the West.
In a joint statement European Commission President Jose Manuel Barroso and the President of the European Council Herman Van Rompuy said it was "illegal and illegitimate and its outcome will not be recognised".
The White House said that the international community would not recognise a poll carried out "under threats of violence and intimidation" from a Russian military incursion which violated international law
"Russia's actions are dangerous and destabilising," a White House statement said.
"As the United States and our allies have made clear, military intervention and violation of international law will bring increasing costs for Russia - not only due to measures imposed by the United States and our allies but also as a direct result of Russia's own destabilising actions."
Ukraine's prime minister insisted Arseniy Yatsenyuk described the poll as a "circus performance" carried out "under the stage direction of the Russian Federation".
"Also taking part in the performance are 21,000 Russian troops, who with their guns are trying to prove the legality of the referendum," he told a government meeting in Kiev.
Before voting began tensions were heightened when on Saturday Russian troops moved out of Crimea into Ukraine proper to take control of the village of Strilkove and a key natural gas distribution plant nearby.
In a phone call with Russian Foreign Minister Sergey Lavrov - their second since unsuccessful face-to-face talks on Friday in London - US Secretary of State John Kerry expressed "strong concerns" about Russian military activities and about "continuing provocations" in cities in east Ukraine.
German Chancellor Angela Merkel also protested against the seizure of the gas plant in a telephone call with President Vladimir Putin in which she called for a expansion of an international observer mission in eastern Ukraine.
Popular in the Community