Holi is one of India's most energetic and vibrant festivals taking place on 17 March, traditionally celebrated by throwing bright paints and powders. And where there's a festival, a food feast is not far behind.
Chef Anjum Anand provides the vegetarianrecipes to celebrate it, taken from her book Anjum's Vegetarian Feast and her new book, Anjum's New Indian.
See Also:

Australia Day Recipes: Barbecued Barramundi With Olive Salsa, Fennel Salad, Fried School Prawns
Savoury Yoghurt Kebabs (10-12 servings)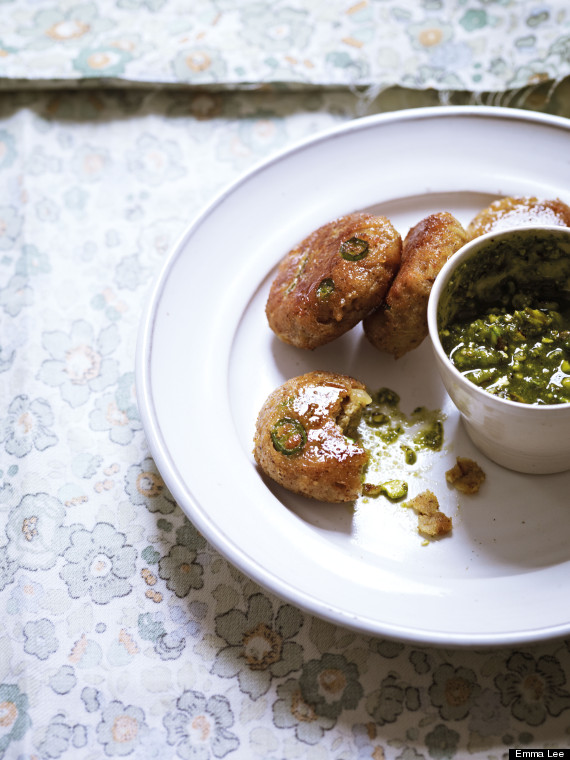 220g Greek yoghurt, thick bit (see above)
30g mature Cheddar cheese, finely grated
2 medium slices white bread, crumbed
40g gram flour
½ medium onion, finely chopped
2 medium clove garlic, finely chopped
10g ginger, peeled weight, finely chopped
½-1 green chilli, seeded and optional
2 tbs. fresh chopped coriander
Salt and black pepper to taste
¾ tsp. garam masala or to taste
½ tsp. roasted cumin powder
3tbs. vegetable oil plus
Add the gram flour to a non-stick frying pan and dry roast over a gentle heat, stirring often until the gram flour has a lovely toasted smell and turns a golden colour, around 4-5 minutes. Pour and scrape into a large bowl.
Clean the pan and add and heat 1 tbs. of the oil in it. Add the onion; cook gently until just softening. Add the garlic and ginger and salt and cook until it no longer smells of raw garlic, around 40-50 seconds. Stir in the garam masala and roasted cumin powder; take off the heat and add to the gram flour along with the yoghurt, cheese, ¾ of the bread crumbs, coriander, green chillies and black pepper. Stir well to combine and season to taste. It should be creamy but firm enough to roll into little balls. If not you will need to add some more crumbs. Give the pan a wipe.
Heat half the remaining oil in the saucepan. Make little balls of the mixture, flatten and add to the pan, the oil should be hot and cook gently until the bottom is a lovely golden brown. Flip over and cook until this side is deep golden too. Place on absorbent kitchen roll. Serve immediately as they are, with green chutney or topped with a little basil "chutney".
Basil "chutney"
1 (70ishg) bunch fresh basil, leaves picked and washed
15 pistachios – around 10g kernel weight
1 small clove garlic, peeled
11/2 tbs. extra virgin olive oil
1 tbs. water or as necessary
1-11/4 tsp. lemon juice or to taste
Blend together all these ingredients until smooth, add enough water for a thick creamy chutney; season to taste and serve.
LIKE HUFFPOST UK LIFESTYLE ON FACEBOOK | FOLLOW US ON TWITTER
Steamed Nepalese Momos (15-16 dumplings)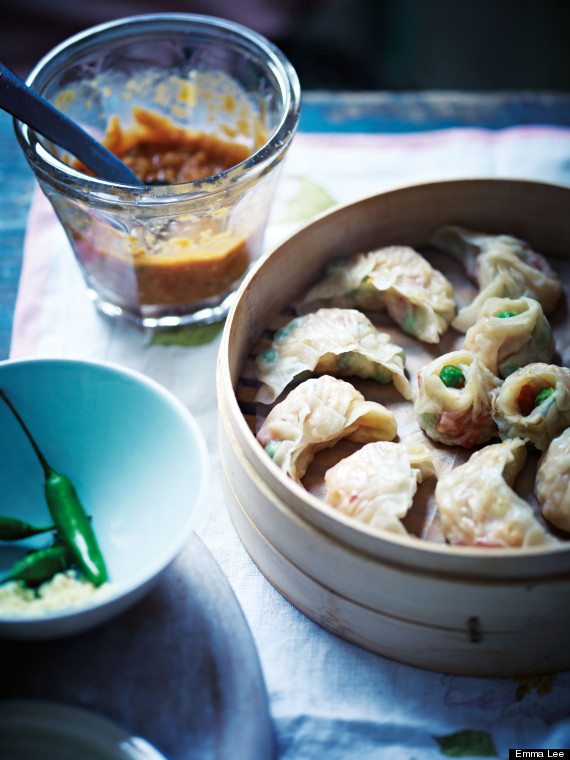 Dumplings
50g plain flour, plus more to dust
a little vegetable oil
Mix the flour with 2 tbsp of water and make a dough. Give it a good knead so it is smooth and soft, adding 1 tsp more water if needed. Halve the dough and roll each half into a long rope. Pinch off equal tiny portions, aiming to get seven or eight from each rope. Roll each into a smooth ball and cover with a damp tea towel.
For the fillings
½ onion, finely chopped
90g cabbage, finely grated, excess water
squeezed out
½ small carrot, finely grated, excess water
squeezed out
small handful of frozen peas, defrosted
3 tbsp finely chopped red pepper
3 fine green beans, finely sliced
9g root ginger, peeled weight, finely chopped
2 garlic cloves, peeled and grated
1½ tsp soft unsalted butter
½ tsp salt, or to taste
good grinding of black pepper
Mix all the ingredients for the filling, taste and adjust the seasoning.
Place a steamer filled with water on the heat and oil the steamer basket. Taking one ball of dough at a time, use a little flour to roll out into a thin 6–7.5cm round. Place a generous teaspoonful of filling in the centre. Take the
momo in your left hand (if right handed) and use your thumb and forefinger to enclose the filling by gathering the edges of the dough and pleating them together (or you can pleat them to look like rosebuds, see previous page). Either way, make sure the filling stays well away from the edges. Place on the oiled rack, seam side up.
Once they are all done, place in the steamer, close the lid and steam for 12–14 minutes, or until the dough is no longer sticky, then serve.
Chilli, ginger and tomato chutney
Heat 1 tbsp of vegetable oil in a small saucepan. Add 3 peeled garlic cloves, 18g of root ginger, peeled weight, and 2–3 green chillies, all roughly chopped, and sauté until the garlic begins to colour.
Add 2 large tomatoes, roughly chopped, and salt, cover and cook down until the moisture has evaporated and the tomatoes are darkening.
Add some boiled water and blend together (it doesn't have to be too fine). Add 1 tsp of finely chopped ginger and 1 tbsp chopped coriander leaves.
Taste, adjust the seasoning and add more finely diced green chilli, if you like. It should be loose but not watery, quite hot and gingery and slightly salty, as the dumplings are quite simple.
Blackberry Lassi (serves 2)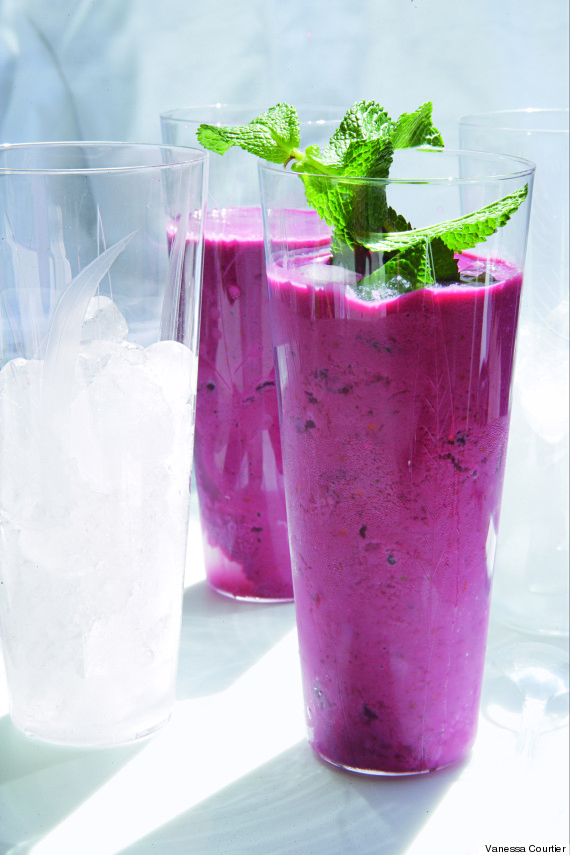 300g blackberries
200ml natural yogurt
½ tsp lemon juice
1 ½ - 2 ½ tbsp. sugar, depending on the sweetness of the berries
ice cubes and mint leaves, to serve
Purée together the berries, yoghurt, lemon juice and most of the sugar with 140ml water. Sweeten to taste.
Pour through a sieve into glasses to remove the seeds. Serve chilled over ice cubes, with a mint leaf on top for colour and freshness.
Anjum's Vegetarian Feast, Anjum Anand, published by Quadrille, £19.99.