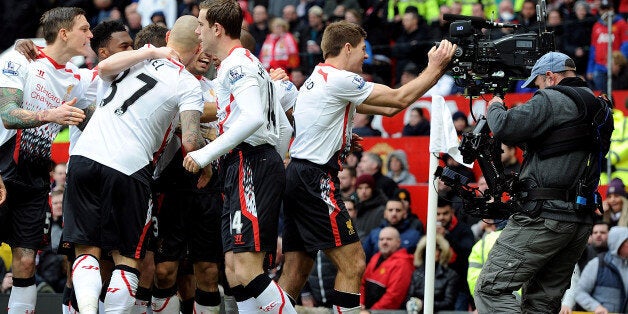 "We get the chance to come home and put on a performance," David Moyes wrote in his programme notes, "which I believe we owe all of you inside the ground." The performance Manchester United put on was perhaps their worst at Old Trafford in Moyes's eight-and-a-half month tenure, as Liverpool recorded a first Premier League double over their adversaries in five years and reinforced their progress under Brendan Rodgers.
Steven Gerrard was twice successful from the penalty spot and Luis Suárez struck in a game which resembled an exhibition match before Nemanja Vidić was sent off. Liverpool are now second in the league and their superiority over United does not flatter them. Quicker, sharper, hungrier, and more spirited, it is humiliating for Moyes he now trails a team by 14 points that Sir Alex Ferguson finished 28 ahead of in his final season.
What will have concerned Moyes was that his line-up was only a player shy of his strongest. The problems mount from Juan Mata's role, to the lethargy in midfield and the creaky defence, let alone his own management. Olympiakos arrive in Manchester on Wednesday to defend their two-goal advantage in the second leg of the Champions League round-of-16, and to assure a trophyless maiden campaign at United for Moyes. On the evidence of today, it is unlikely Old Trafford will witness another memorable comeback. At this rate, they will not witness European football next season.
However dismal United were, Liverpool's performance was as impressive as their title credentials. They have outclassed four of the sides that finished above them last year now and will relish the arrivals of Manchester City and Chelsea later in the spring.
Old Trafford had not staged such a significant match between these sides in exactly five years and two days, when Fernando Torres and Liverpool ran amok to instigate the last great title race with a 4-1 win. The League is beyond United this year but isn't for Liverpool, and their hosts had a similar point to prove to their January 2006 meeting, when Rio Ferdinand rose highest in stoppage-time for some late Scousebusting.
David Moyes's seat was barely warm when he first strode into the technical area inside three minutes. Daniel Sturridge fired narrowly wide and Suárez's good behaviour continued when he remained on his feet following contact from Marouane Fellaini inside the area. Liverpool would get some penalty practice later on.
Michael Carrick and Juan Mata were both guilty of dithering, while Nemanja Vidić rollocked Rafael da Silva. United could barely keep up with Rodgers's Reds.
Sturridge's greed got the better of him in the 20th minute. Again, he sprang an obvious offside trap with a surge into the right-hand channel, and rather than tee up Raheem Sterling after a neat turn, he scuffed a left-footed shot into David de Gea's arms. It was a kink many thought he had ironed out from his Chelsea days.
United's struggles were reflected by their moribund support. "Fergie's right, your fans are shite," chirped the Merseysiders. The K Stand retorted with "The Sun was right, you're murderers," which compelled a minority of Liverpudlians to respond with airplane gestures mocking the Munich air crash. With Hillsborough Justice Campaigners Jenny Hicks and Margaret Aspinall in attendance, it was an unpleasant digression.
Moyes switched Mata and Adnan Januzaj, equally ineffectual, after 25 minutes. He looked vexed by Mata's role in the game's infancy and his struggle to shoehorn him into the United XI is proving to be an expensive problem, especially with Wayne Rooney's £300,000-a-week contract extension. Januzaj drew a foul from Jon Flanagan, which earned the young full-back a yellow card, yet it was his outstanding contribution in an uninspiring first 45. Rafael executed a reducer on Steven Gerrard to lift the home supporters, even at the cost of a card. Minutes later, he deflated the crowd.
Deceived by Suárez's exceptional first touch, he impulsively struck out his right arm to concede a penalty, and evaded a second yellow. United fans had seen it from the Brazilian before; the red card against Bayern Munich and concession of a Ledley King equaliser four years ago, as well as the half-time withdrawal at Reading last season. Gerrard converted his sixth penalty of the year to give Liverpool a merited lead.
Diego Maradona took his seat 43 minutes late at Old Trafford, but had turned up quicker than United's players. Wayne Rooney belatedly brought an alert stop from Simon Mignolet in the 44th minute and saw a second shot blocked in what was a rousing end to the half. It didn't continue into the second period.
Joe Allen ran onto Jordan Henderson's dink and was barged over by the calamitous Phil Jones 27 seconds into the second-half. Gerrard aimed to the right again and converted his fourth spotkick at Old Trafford. Maradona applauded.
United toiled fruitlessly and Liverpool always looked threatening on the counter-attack, while Moyes did not make a substitution until the 76th minute. Astonishingly, referee Mark Clattenburg awarded the visitors a third penalty in the 77th minute when Vidić was adjudged to have brought down Daniel Sturridge. The Serbian received a second booking and was dismissed against Liverpool for the fourth time in his career, as he remonstrated with Sturridge. Eventually, he trudged off and tossed his armband away in disgust.
Ole Gunnar Solskjaer, ever the loyalist, got up and left before Gerrard stepped up to complete his hat-trick, only he was denied by the left upright. The game was still in danger of climaxing similarly to United's 6-1 capitulation at the hands of Manchester City two seasons ago. Suárez was magnificently denied by De Gea but eventually got his goal when he intercepted Sturridge's shot and slotted the ball past the Spaniard.
Defiantly, United fans celebrated their 20 titles as the away section taunted them with chants of "We're going to win the league." The most damning ditty, though, was "David Moyes, football genius."