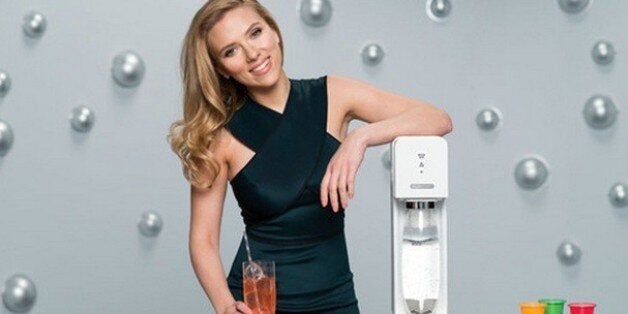 Johansson, 29, stepped down from her role as an ambassador with the charity a month ago when it criticised her decision to sign an advertising contract with SodaStream, the carbonated drinks machine maker.
SodaStream's headquarters are in Israel and it has a factory in a settlement on the West Bank, employing around 500 Palestinians and 350 Israeli Jews.
Oxfam opposes trade with Israeli settlements, saying they are illegal and deny Palestinian rights.
She said: "No, I stand by that decision. I was aware of that particular factory before I signed. And it still doesn't seem like a problem - at least not until someone comes up with a solution to the closing of that factory and leaving all those people destitute."
The actress said she felt the case against the factory was unclear, saying: "I think that's something that's very easily debatable.
"In that case, I was literally plunged into a conversation that's way grander and larger than this one particular issue. And there's no right side or wrong side leaning on this issue."
Johansson said the argument by the UN, the Red Cross and the International Court of Justice that the SodaStream factory contravenes international law did not sway her, telling the Observer: "Sure, I think that's the way you can look at it.
"But I also think for a non-governmental organisation to be supporting something that's supporting a political cause ... something feels not right about that to me.
"There's plenty of evidence that Oxfam does support and has funded a BDS (boycott, divest, sanctions) movement in the past. It's something that can't really be denied."
However, Oxfam denied the allegation to the Observer.
Johansson added that she now understands that British opinion on the status of the West Bank is more clear-cut than she has found elsewhere.
"That's one thing I've realised," she said. "I'm coming into this as someone who sees that factory as a model for some sort of movement forward in a seemingly impossible situation."
SodaStream has come under fire from pro-Palestinian activists for maintaining a large factory in an Israeli settlement in the West Bank, a territory captured by Israel in 1967 and claimed by the Palestinians.
Johansson served as a global ambassador for Oxfam from 2007, raising funds and promoting awareness about global poverty.
In her role she travelled to India, Sri Lanka and Kenya to highlight the impact of traumatic disasters and chronic poverty.
Related