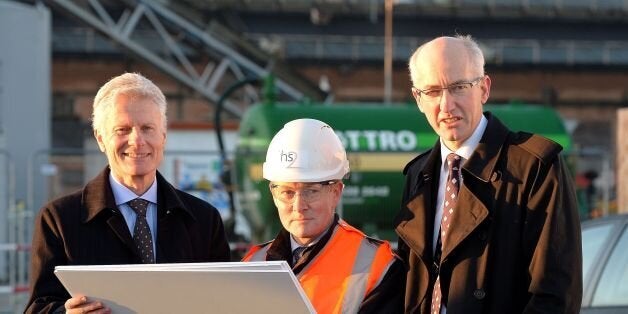 High speed rail campaigners have accused officials managing the £50 billion High Speed Rail 2 project of not finding a "single bean" in savings.
In November, David Cameron asked Higgins to use his "penetrating eye" to cut costs and deliver the project "substantially" under budget, however Higgins concluded in his report that it would be "irresponsible" to reduce the amount the government has put aside for the scheme.
Higgins said that the second phase of the London to Birmingham line, which would take it into northern England by 2033, should be completed six years earlier and that the line should run to a new hub at Crewe, in a move that would extend it by 43 miles.
He said: "The section north of Birmingham to Crewe is relatively straightforward to build, and relatively lower-cost than other parts of the northern network."
Transport expert Christian Wolmar, who is a Labour London Mayoral candidate, told HuffPostUK that Higgins' plans are "slightly smack of desperation".
"Surely they should have thought about this in the first place? It is strange that they've had to wait so long to come up with these ideas," he added.
The HS2 chief, who is paid £600,000 a year, also called for a bigger redevelopment of Euston Station, which would be the London hub of HS2.
Higgins also rejected plans to link the HS2 line to Europe via the Channel Tunnel high-speed link at St Pancras, which he argued would save £700 million.
Joe Rukin, campaign manager for Stop HS2 said: "David Higgins has spent three months looking for cost savings for HS2 and he hasn't found a single bean. Any pretense that the costs of HS2 are under control are a fraudulent attempt to con the public.
"In fact all he has done is take off the link to Europe but the costs have stayed same.
"We know that these costs will continue to escalate. The only answer is to cancel the project and go back to the drawing board right now."
In his report, HS2 Plus, Higgins writes: "Additional time spent debating the legislation will translate into extra uncertainty about the construction timescale – and therefore about its cost.
"That is why, in considering the first phase, I consider that it would be irresponsible to reduce the substantial contingency included."