Riddled with sores, his hair all but gone and his ribs protruding, it's hard to believe this dog is even alive.
But he is, and the transformation he has undergone to happy, healthy hound will amaze you.
Tiny the Rottweiler was found wandering the streets of Taiwan two years ago, perilously close to death.
Scroll down for more amazing pictures of Tiny's transformation Tiny was found wandering the streets of Taiwan in this pitiful state
He was taken into The Sanctuary, a charity set up to look after unwanted animals unlikely to be homed.
The Sanctuary was set up by British expat Sean McCormack, who took him in, despite being told by the Taiwanese dog pound that Tiny was aggressive.
The 46-year-old said: "At first, I thought he was a mastiff, because he was in such a bad state that it wasn't clear to me what breed he really was. But just look at him now!
"But my friend Jeff, who has two very lucky rescued Rottweilers, knew right away that Tiny was a Rottie.
"His progress was slow but obvious to see, and he turned out to be one of the lucky ones who don't relapse into full-blown mange from time to time."
Despite warnings about Tiny's temperament, the animal turned out to be one of the "sweetest" animals The Sanctuary had ever encountered.
Now not only has tiny made a full recovery – he's won 'Best Dog' in RSPCA competition The Ruffs – an alternative to Crufts.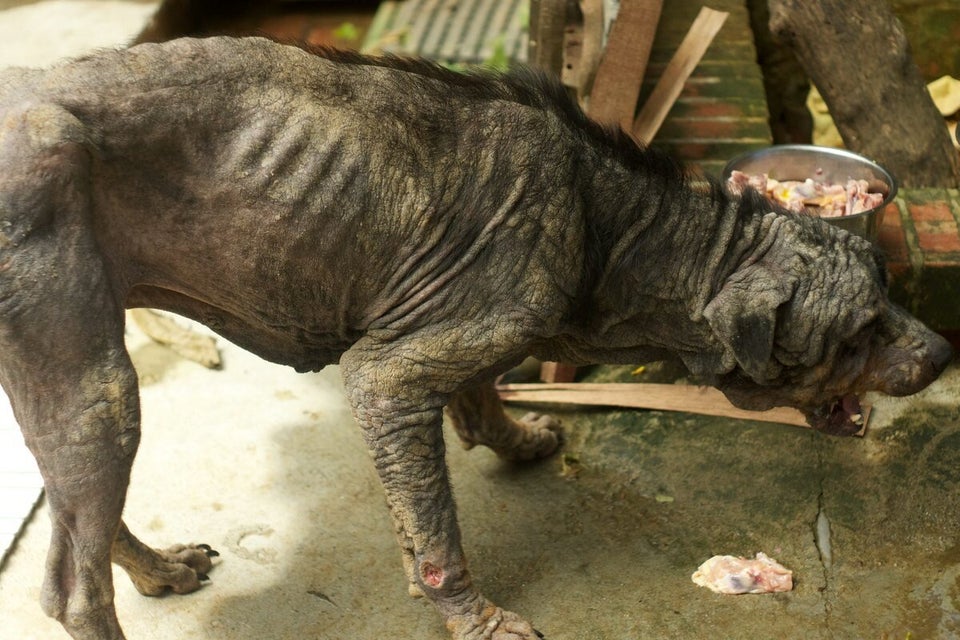 Tiny the Rottweiler
More than 300,000 people logged onto the RSPCA's Facebook page to vote for Tiny, who scooped the crown in 'Best Transformation'.
McCormack said: "We are all over the moon that Tiny was crowned Grand Champion of Ruffs 2014 and hope it serves as food for thought for all those rescue organisations that kill animals like Tiny in order to 'end their suffering'."
Tiny has now started afresh with his new owner Laeila Pereira, a volunteer at the shelter.
Pereira said: "He looked like he had given up on life. I fell immediately in love with the large, loveable Rottie with an ironic name.
"I moved into a new apartment just so I could adopt him. He is now a beautiful and very well loved dog."
The Sanctuary has been caring for feral cats, pigs which outgrew apartments they were kept in, orphaned baby squirrels, and lots of dogs, once-aggressive or fearful, blind and disabled for 15 years now.
But The Sanctuary is now facing an uncertain future after its landlady told McCormack she wants to sell the property which is home to 200 rescued animals.
They face the prospect of being made homeless.
He added: "We are starting an IndieGoGo campaign and hoping to use Tiny's story and Ruffs victory to help bring international attention to our plight.
"We're looking to buy a beautiful 2.5-acre site to give our dogs, cats, pigs, rabbits, squirrels, pigeons, hedgehog, budgerigar, and, very soon, deer a permanent happy home."