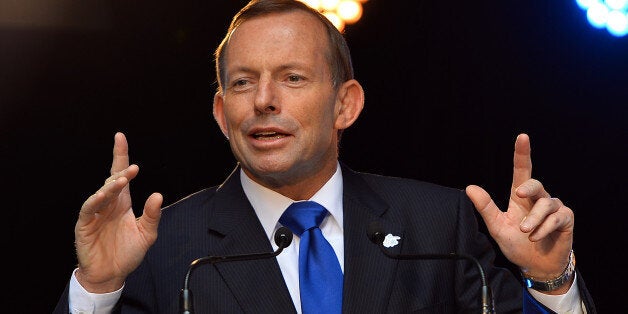 Australia's prime minister Tony Abbott probably wished he was back in question time and facing the opposition after a fierce, and occasionally awkward, grilling from high school students.
The politician ducked and dodged questions from the teenage pupils, which covered carbon tax, immigration, gay marriage and women and were greeted with wild cheers from their peers.
The students, from Newtown High School of the Performing Arts in Sydney, were given the opportunity to ask their country's leader three questions during a school trip to Parliament House in Canberra.
Abbott told students carbon tax would not help reduce emissions, adding: "You do not save the environment by giving money to some dodgy carbon trader in Kazakhstan."
He was then asked why he was so against legalising gay marriage, to which the group erupted into cheers and applause.
After offering a rather feeble explanation, Abbott demands: "Let's have a blokes question," to which one male student smites him with a blow and asks about his policy to stop asylum seekers entering Australia. The prime minister's response fails to satisfy the crowd, as they continue to pepper him with immigration questions, with one student shouting: "Why don't you actually answer the question."
Abbott duly responds: "When you're young and enthusiastic and idealistic, this all seems like it's not a very big problem."
Following some persuasion, he agrees to take one more question from the pupils, with one girl asking: "Not saying that I don't trust you or anything, but why is a man a minister for women? And why is a man in control of the rights of women?"
As Abbott begins to answer, saying "people are either male or female," another student swiftly cuts in correcting him that "no, actually, there are intersexes".